A commercial kitchen is the heart of your food business or restaurant. It is a place where your staff will spend all day. They will prepare, cook and serve and execute all the necessary steps of food preparation in the restaurant, all day long.
One of the biggest investments while opening a new restaurant are kitchen appliances. Choosing the right commercial kitchen equipment for a restaurant is a crucial part of establishing the restaurant.
A restaurant that has a perfect location but no adequate and necessary equipment is of no use. Lets dig into the ultimate Commercial kitchen equipment list.
Commercial Kitchen Equipment Tips
Even though it's a place to prepare and cook food, a residential kitchen and a commercial kitchen are different in many respects
The restaurant's equipment should be of commercial and industrial standards to meet the food preparation requirements of a restaurant.
Heavy-duty appliances should be installed in commercial kitchens suitable for a high volume of work. Its appliances are designed to bear heavier workloads. The cook-ware used also needs to be able to tolerate a high volume of work
Unlike a domestic kitchen, a commercial kitchen has several customers and staff coming in and out, so its equipment should be maintained and able to cater to the customer's needs accordingly.
Restaurant kitchen equipment has less powerful compressors as compared to domestic kitchen equipment.
As food in a commercial kitchen is prepared and served to customers, they need to have big storage units to meet food safety standards. It usually have massive pantries, huge freezers, and other big storage units and areas.
Ultimate Commercial Kitchen Equipment List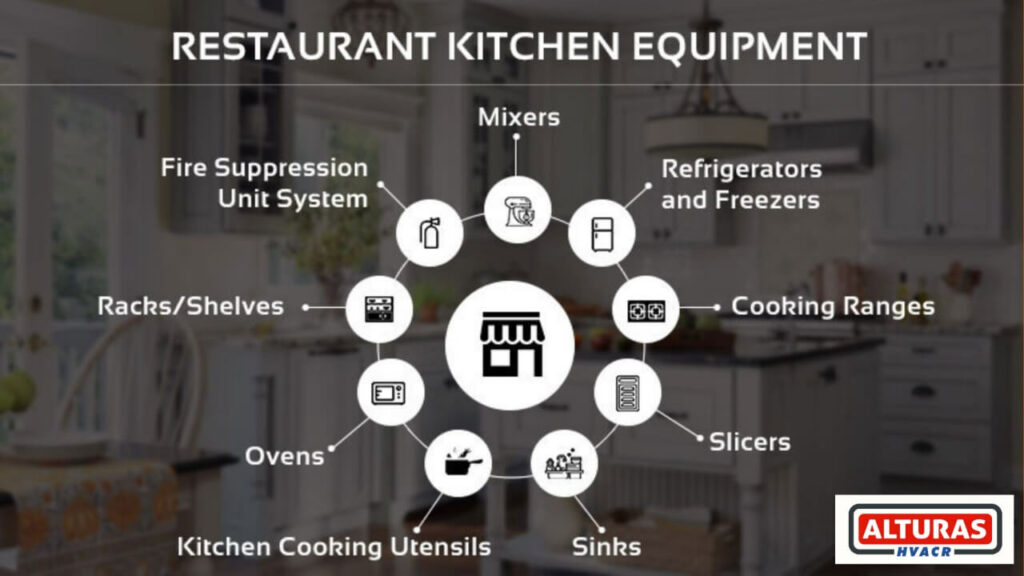 Below is the commercial kitchen equipment list for cooking and refrigeration that almost all restaurants require to make a restaurant operational.
Restaurant Cooking Equipments
Cooking equipment for restaurants is the foundation of any commercial kitchen. While choosing cooking equipment for your restaurant, determine what pieces of equipment you're going to be using most often.
Although small types of equipment may be less expensive, they lack the capacity to cater to daily restaurant cooking needs, costing your business more in the long run.
Here's the list of essential kitchen equipment for restaurant
Cooking Range
Ranges are one of the most powerful pieces of restaurant kitchen equipment, providing the means to cook a variety of items.
A range can be either electric or gas, depending on your preferences, requirement, and kitchen setup. Cooks use ranges to bring water to a boil, fire up food in pans and skillets or simmer sauces.
Our Alturas HVAC technicians provide efficient commercial cooking range hood installation and repair services. We are your trustworthy HVAC contractors. We have been providing installation and maintenance services for all types of kitchen equipment for restaurants.
Oven
The first essential piece of equipment in mind when you think about operating a restaurant is an oven.
Unlike residential or domestic ovens, commercial ovens are designed with higher power outputs and huge capacities for cooking all day, every day. This versatile piece of equipment can be used for baking, roasting, stewing, braising, and much more.
All these cooking in your commercial kitchen produce alot of smoke and odour. A proper ventilation system is important for every commercial kitchen.
Contact Alturas HVAC contractors for your commercial ventilation system installation and repair services in Los Angeles. Our professional technicians provide all types of ventilation system installations for restaurants.
Grill
A commercial grill is used to prepare a restaurant's menu food, from breakfast to dinner.
It is a form of cooking that involves emitting dry heat on the surface of food from above, below and from the sides. Grilling uses a significant amount of direct, radiant heat, that is used to cook meat and vegetables quickly.
Most restaurants use gas grills. They are available in a variety of widths i.e 24″ to 48″, or 60″.
Deep Fryer
A deep fryer is a kitchen appliance that is designed to heat cooking oil into which food is immersed for frying.
It deep fries large quantities of foods such as french fries, chicken, nuggets, appetisers, mozzarella sticks, meat tenders, and other varieties of foods
Holding or storage equipment
Holding and storage equipment are widely used in commercial restaurants and helps in keeping the cooked food either hot or cold or as required.
It is useful if the food has to be served to a large number of people at the same time. It keeps the food at a specific temperature required.
Salamander or Broiler
Salamanders are specialised commercial kitchen appliances specifically used in restaurants.
They are designed to achieve perfect grilling, browning, finishing, melting cheese, and toasting in half the time that a standard oven broiler takes. Salamanders have high heat output to broil salmon or cook foods.
Griddles
A griddle is similar to grills but it has a flat metallic surface. A commercial gas griddle is a rectangular metal plate that absorbs heat from burners or other components under the plate.
The configuration of the griddle helps in the shallow frying of delicate food and many other delicacies. Griddles are centrepieces in a restaurant and can be used for a variety of different cooking methods.
Toaster
If your restaurant is going to be serving breakfast, a commercial toaster is a must to toast bread, bagels, muffins, buns, and many other types of bread products. There are typically 3 types of toasters to choose from i.e: Pop-up, Conveyor, and Bun Grilling toaster.
Microwave
Most restaurants or commercial kitchens use microwave ovens. These ovens work in more or less the same way as a typical domestic microwave model but have several significant differences.
Microwaves are a convenient way to heat up sauces, defrost frozen foods, and reheat products.
Coffee Brewer
Coffee is a popular beverage, and it's a great addition to your food and beverage business.
A coffeemaker or coffee machine is a cooking appliance used to brew coffee. While there are many different types of coffeemakers the two most common brewing principles used in coffee brewers are gravity or pressure which aids to move hot water through coffee grounds
Commercial Refrigeration Equipments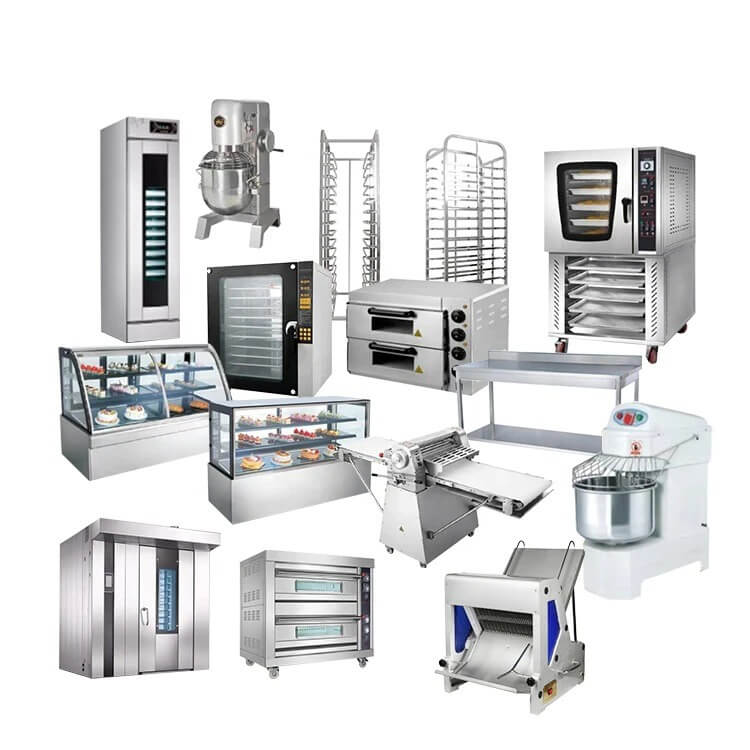 As much as cooking equipment is necessary for commercial kitchen functioning, refrigeration equipment has its own importance.
They preserve ingredients and food products at ideal storage temperatures. It is a significant financial investment for your business as it protects thousands of dollars worth of inventory by storing food and beverages at optimal temperatures, keeping the food fresh and free of contamination.
A piece of malfunctioning refrigeration equipment can be life-threatening for the customers and a threat to your business.
Refrigerator
A commercial refrigerator is a basic necessity if you are an owner of a restaurant or working in the food industry.
It is installed in manufacturing industries, bakeries, supermarkets, shopping malls, high-end clubs, restaurants, food and beverage industries, and commercial kitchens.
There are different refrigeration equipment available in the market but the one you choose will depend on your requirement. Some common types of refrigerators include walk-in coolers, reach-in refrigerators, Refrigerated Prep Tables, Serve Over Counter Refrigerators, Under Counter Refrigerators, and Display Refrigerators.
It is also likely that your restaurant will require a combination of different types.
Learn more about the types of refrigeration equipment from our blog A complete commercial refrigeration buying guide
Freezer
Commercial blast freezers are used to rapidly bring down the temperature of food that needs to be refrigerated quickly to maintain the desired temperature. It chills the food much faster than a domestic freezer.
Like refrigerators, freezers come in various sizes and styles to suit your needs and food storing requirements. They are widely used in the frozen food industry to freeze and store ice cream, pre-prepared meals, vegetables, or fish.
Ice Machine
Commercial ice machines are a vital part of restaurants, bars, hotels, and a variety of other business settings. Cafes, bars, and grocery stores may use ice to make smoothies or blended cocktails.
It is also a very useful kitchen appliance dedicated to making large amounts of ice in the comfort of your own home.
Beverage Dispensers
A refrigerated beverage dispenser carries out a refrigeration process to keep products at an optimum drinking temperature. Food businesses like fast food, bakery shops, wait stations and casual restaurants usually install self-service beverage dispensers.
They are used to hold and dispense pre-made drinks, such as iced tea, mixed drinks, juices, and lemonades.
A commercial refrigerator equipment installation is more than just a purchase, it's an investment for your future. An Improper refrigerator service and installation can reduce its efficiency by up to 30%, cost you more on your electricity bills, and shorten the equipment's life expectancy.
Therefore, you'll want to choose the perfect refrigeration installation service at your place. If you are seeking an accomplished and skillful HVAC company that specialises in all kinds of refrigeration system installation, then contact Alturas commercial HVAC Contractors.
We are experts in various types of commercial refrigeration installation in the Los Angeles, CA area.
Our team of HVAC contractors specialists is trained and has exemplified proficiency in not only design and installation but also refrigeration preventive maintenance service. So you may focus on your business rather than equipment upkeep. We provide you with a trustworthy walk-in refrigerator repair and installation service that works around your schedule.