The commercial kitchen hood is the hub of the interior exhaust system. It consists of many other important components of the ventilation mechanism. It sits directly above the cooking area, in order to catch as much smoke, cooking heat, odor, and debris as possible coming out. 
There are several major types of commercial kitchen hoods. Keep reading to find out more.
Importance of Kitchen Hoods in Commercial Kitchens
In an environment of constant use of a stove, while cooking in a commercial kitchen, it's necessary to count on an effective commercial kitchen hood system to keep the commercial kitchen environment safe and clean. It is also essential to protect expensive equipment from damaging grease build-up. 
Finding the right commercial kitchen exhaust hood for your kitchen is crucial for maintaining air quality, keeping the temperature at a comfortable level, and preventing fire hazards.  The foremost step in any commercial kitchen hood installation is to understand what type of hood is required. 
The hood type needed is based on the usage. Kitchen hood specifications also depend on the type of cooking equipment that will be installed under the hood. Commercial kitchen exhaust hoods serve very different purposes. For example,
A Hood that can remove moist warm air from a dishwasher or steam table does not necessarily remove grease from the exhausted air.
A hood installed over a deep fryer or a kitchen grill does need to have capable of removing grease.
This guide will go over the commercial kitchen hood type 1 vs type 2 and various commercial kitchen range hood systems that are found in a commercial setting to ensure you are outfitting your kitchen with the correct ventilation. 
Commercial Kitchen Hood Type 1 Vs Type 2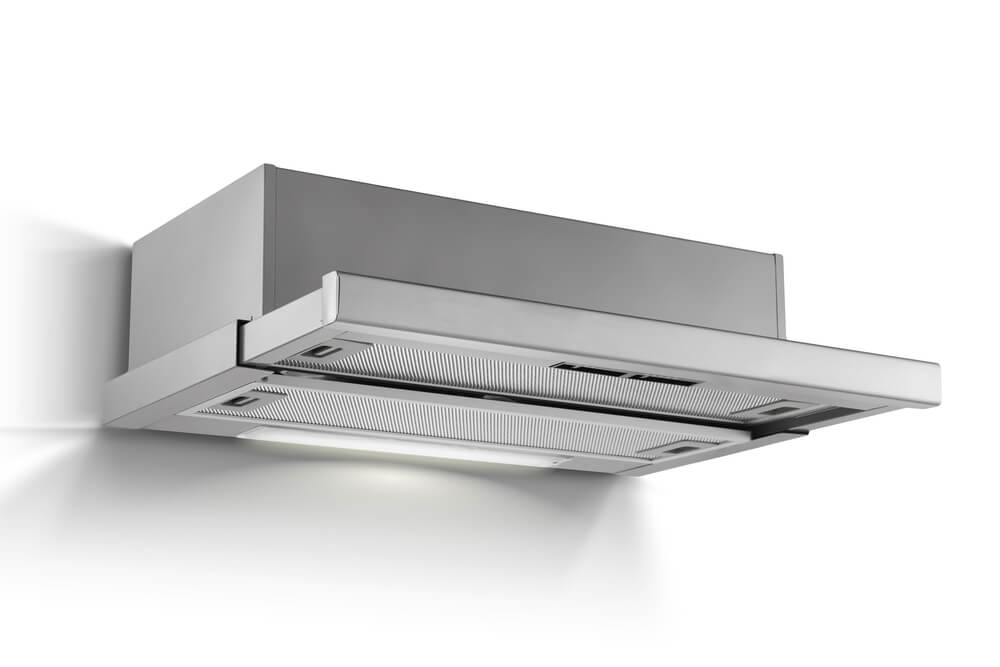 Commercial hoods are divided into two types based on whether or not they are designed to handle grease.
Type 1 Range Hoods ( Grease hoods)
Type 1 range hoods are required to be installed above all commercial-type deep fat fryers, fry grills broilers, steam jacketed kettles, ovens, BBQ, rotisseries, hot top ranges, or other grease or smoke-producing equipment
If the cooking equipment is located right against the wall, a wall canopy hood can be installed. In cases where no walls are present around the stovetop then single or double-island hoods can be installed on the ceiling.
A make-up air (MUA) device is installed in type 1 range hoods to ensure that enough fresh air is entering the building to replace or "make up for" the contaminated air that is being exhausted
Include grease filters or baffles to catch and remove grease
It is Custom-built according to the operator's requirements and specifications. This ensures that every piece of equipment that will be placed under the hood is properly covered.
Type 1 range hoods must be regularly cleaned to prevent grease buildup that can cause grease fires.
Type 1 range hoods Require professional installation
Type 2 Hoods ( Condensate hoods)
Type 2 hoods are installed to be used for such washers, steam tables, and ovens that emit heat, condensation, and steam.
Not designed to use over grease-producing equipment as they Lack a grease filter
Help remove excess heat from the air, creating a more comfortable environment for the individuals working close to the area.
Some models are designed to remove condensation and steam only while other models are designed to remove heat and odors
Type 2 hoods also Require professional installation
What are different types of Commercial Kitchen Hoods?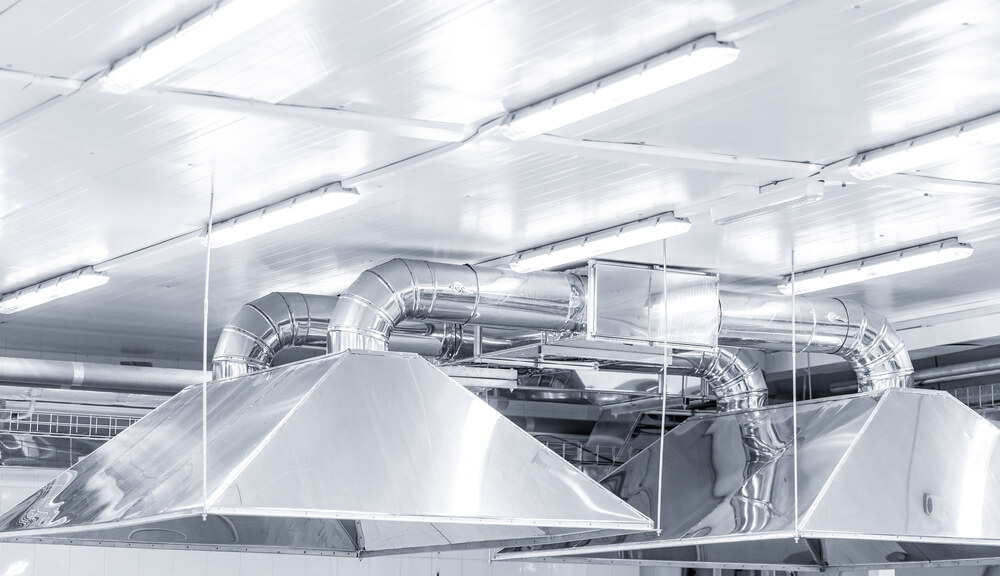 Various types of range hoods are available in the market. Your choice of a range hood should depend upon your type of kitchen, your kitchen size, the layout of your kitchen, the location of your cooktop, cooking preferences, and your budget
Undercabinet hoods
Under cabinet, range hoods are installed under the bottom of a kitchen wall cabinet above the cooktop. Undercabinet hoods come in many styles and strengths. They can be ducted or non-ducted. Cost-effective and easy to install, the canopy or undercabinet range hoods send smoke and fumes out of the wall or up through the ceiling. Some models recirculate the air, so this makes them easier and less expensive to install.
Wall-mounted
These hoods are similar to undercabinet hoods but the difference is that they mount to the wall instead of the cabinets above. These hoods are an option when there are no cabinets over the range.
Chimney range hoods
The chimney range hood consists of a range hood over a stove, with a vertical flue, or chimney, that rises from the top of the hood. The chimney continues to run through the kitchen ceiling, attic, and out of the roof. If you have cabinets fixed above the range, you'll need to remove them to install this type of hood to fit and function properly.
Chimney range hoods can be located anywhere in the kitchen. They can be installed even in the middle of the kitchen over an island. Chimney hoods contribute to the overall look of the kitchen and can make a style statement.
Island hoods
A ductless island range hood attaches to the ceiling. It collects the smoke, filters the air, and pushes it back into the room. That air is much cleaner than it was before. This is often the preferred option for easy installation. Island hoods should be wider than the cooking surface as they lack a wall or cabinets alongside them to help funnel fumes.
Downdraft hoods
A downdraft hood is hidden in the cooktop and pops up when in use. These hoods are designed to eliminate the need for an overhead vent. These systems help capture rising smoke, fumes, steam, grease, and odors at the cooking surface. It then exhausts them through ducts running beneath the floor and out of the kitchen before they can escape into the air. Although they can be used anywhere in the kitchen, they are typically installed in islands where it might not be possible to route ductwork through the ceiling.
Range Hood Inserts
Power packs or inserts are hoods that are hidden. They're built into the cabinet above the cooktop for a custom approach to venting. There are many options available for inserts. It is recommended to so speak to Alturas HVAC contractors who are professionals in installing various types of range hoods. They can help you determine which one would work best with your cabinets.
Pro Hoods
Pro hoods are similar in appearance to undercabinet hoods but are larger, more professional-looking, and more powerful than a typical undercabinet model. These are specifically for people who cook a lot and prefer a bigger-looking hood. They can be ducted or nonducted and come in a variety of styles to cater to the exhaust choices of customers.
Ductless hoods
A ductless range hood is a ventilation system that does not require ductwork to be installed in your home. This type of installation sucks the steam, odors, heat, and smoke from the cooktop filters it, and returns it to the room instead of removing them completely. The hood filters trap oil and grease droplets that are dispersed into the air above the range. Some models include an optional carbon filter to reduce odors.
If you need help determining which type of range hood is suitable for your commercial kitchen operation. Contact Alturas HVAC contractors for commercial kitchen range hood selection. Our skilled team can suggest you the ideal kitchen range hood based on your operation needs, preferences, and requirements of your commercial space.
Learn more about Altura's commercial exhaust and ventilation installation services in Los Angeles. Additionally, routine equipment cleaning by Alturas contractors will keep your kitchen hoods free of grease build-up, prevent fire hazards and ensure the prolonged life of the appliance.