HVAC is basically the short form for Heating, Ventilation, and Air Conditioning. A HVAC system facilitates the making of your indoor environments relaxed and appropriate for your homes as well as businesses. If we talk about types of HVAC units and their features, you will have to balance exactly what you will offer as one of the contractors.
If you are some one that can supply a lot of HVAC types, that's not the case here. You actually need to be able to supply and service all of these systems, which actually means more costs in terms of equipment and overhead.
Types of HVA Systems
How will you establish what is the best and ideal fit for your business? Well at Alturas Contractors we use project management software, HVAC software. Our financial tools will make it a lot more easy for you to figure out how much profit you are making on certain types of jobs, so you only offer work with the HVAC features and types that will be the best for you in so many terms. Also by tracking your employees and equipment, you can also further efficiency for your jobs. This is actually a matter of business sense. The more types of systems that you can service, the larger your customer base is by default. This increases the chances of you having a profitable system, no matter where you are based or other outside factors.
Basic components of an HVAC system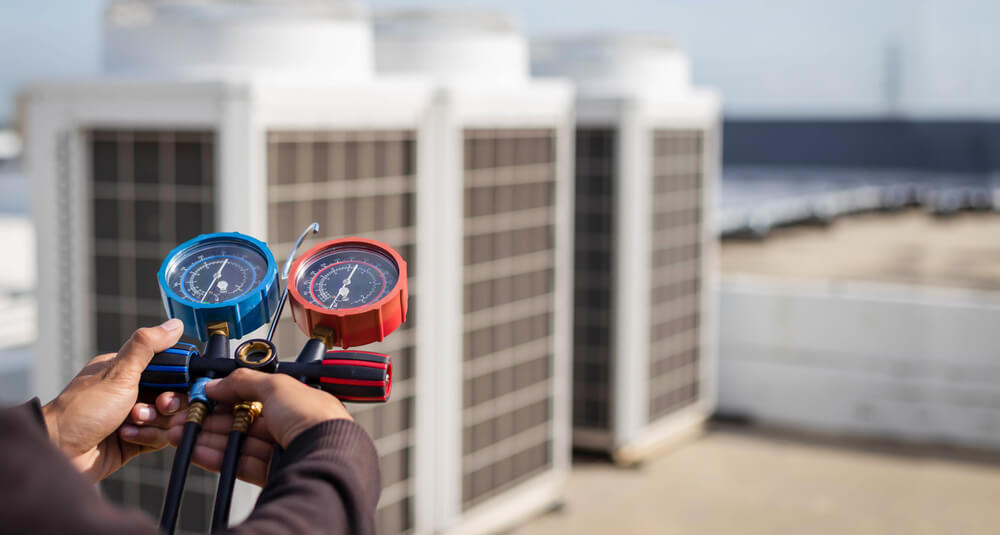 The basic components or equipment of an HVAC system that delivers conditioned air to satisfy thermal comfort of space and residents and to achieve the indoor air quality are listed below:
Mixed-air plenum and outdoor air control
Air filter
Supply fan
Exhaust or relief fans and an air outlet
Outdoor air intake
Ducts
Terminal devices
Return air system
Heating and cooling coils
Self-contained heating or cooling unit
Cooling tower
Boiler
Control
Water chiller
Humidification and dehumidification equipment
Keeping this in mind, here are some of the HVAC systems and features that set installations apart.
Categories and Types of HVAC units on the basis of Functionality
If we talk about the different HVAC system types, most of them usually are referring to one of four options. Here is a close look at the characteristics of each of them.
Heating and Air Conditioning Split System
These are basically the traditional HVAC systems, and these are most commonly used in terms of being present in all of the homes across the country as well as the world. These are considered very popular due to the reason that you can use them in any of the home styles or regions. Each of these systems has two different mechanisms of the overall system, as the name refers to as well. These mechanisms are present on both the inside and outside of the building and it also includes an air conditioner that can cool the refrigerant and a furnace or the fan in order to convert the refrigerant and it also circulates the air around. In case the air is properly cooled or heated, there are many ducts that may carry it all around the building. The user can also control the thermostat in order to manage and control it properly.
This HVAC unit consists of:
All the components of the system that are both inside and outside the building
The air conditioner which cools the refrigerant
Furnace and a fan in order to convert the refrigerant and circulate the air
All the ducts that will carry the air all through your residential or commercial building
Thermostat so that you can manage and control the system easily.
Hybrid Heat Split System
You may think about this one as an advanced version of the traditional split system which will easily improve energy efficiency. This whole system basically consists of a heat pump which is designed in order to heat and cool refrigerant, that too with a furnace or you may say evaporator coil that will help to convert refrigerant and air circulation properly. Actually, the major difference here is that this is a hybrid system that lets the landowner switch between hybrid and gas-powered at will using a control panel. All these ducts control air all around the building same as with a traditional split system. This is particularly very useful for all those people who know they are going to put more stress on their HVAC systems at a particular type of day.
This HVAC system consists of:
A heat pump that will heat or cool the refrigerant
Furnace and evaporator coil for the purpose of conversion of the refrigerant and air circulation
Ducts to control air all around the building
Control panel in order to adjust and control the system entirely
Duct Free Split Heating & Air Conditioning System
Even though this will present a larger up-front cost for many land owners, it is a lot worth it, particularly for all these commercial buildings. These systems are considered perfect for all those areas where a conventional duct system can not reach properly. Nevertheless, they will also make a complement for existing ducted systems in order to give more control on a room-to-room basis. The way this would work is that there is a heat pump or air conditioner to heat or cool refrigerant as required, also with a compact fan coil that is in every single room or area. All these wires and tubing would connect the outdoor unit to the fan coil, and this can be controlled with either a control panel or thermostat.
This HVAC system consists of:
Heat pump or air conditioner to heat and/or cool the refrigerant
Compact fan coil
Wire and tubing for the refrigerant that connects the outdoor unit to the fan coil
Thermostat or control panel
Packaged Heating & Air Conditioning System
Well this is considered as an ideal solution for all of your homes and offices where space can be the most important concern, which will make split systems impractical. This also consists of an air conditioner and heat pump that are combined into one large outdoor cabinet. These will generally combine the evaporator and fan coil into the space as well. Apart from the space concerns, the main advantage is that it has less noise inside the building. Nevertheless, by exposing your whole HVAC system to these elements, it is generally weaker and needs replacement sooner.
This HVAC system consists of:
Air conditioner and heat pump together with the evaporator and fan coil in one unit
Thermostat or control panel in order to control the entire system easily and properly
Now that you know the four different types of systems, it is important to consider the different features of HVAC systems.
HVAC Features to Follow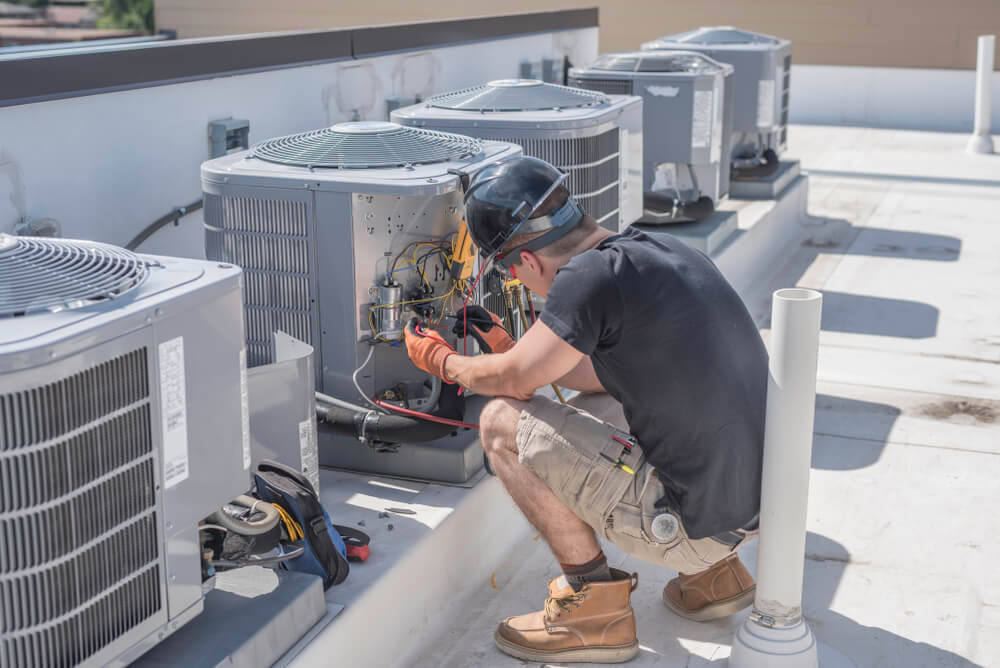 So, now you know all the four different types of HVAC systems, it is very important that you consider the different features of these HVAC systems. These are what your customers are going to be thinking about when they will be selecting a system from all the options that you may have, so it is very important for you to know what they value as well.
Refrigerant
That does not matter at all what the HVAC style you choose from, there will always be different types of refrigerant that you may use in your HVAC systems. An option that you must consider is an environmentally friendly refrigerant such as R-410A. A lot of the homeowners are now selecting it as the priority in order to protect the planet as well as to increase the property value.
Location of indoor unit
Always keep this thing in your mind that the proper placement matters when it comes to where your furnace is. In case the furnace is mounted in the closet or floor level areas it is very less likely to lead to leaks and any sort of water damage. So, as a consequence, you will have to avoid setting any indoor units in an attic or higher-level area. This is very much likely to damage the ceiling or it may result in a leak.
Location of outdoor unit
In an ideal world, you will have to keep these in as covered an area as possible. This actually would mean that this location is not likely to be seen, heard, or get damaged in any way. Which actually means that you may want to reconsider the traditional placement of right by your bedroom window.
Air-filter location
Well a lot of people would miss this deadline. You should always replace air filters that are around after every three to four months. You should always make sure that the filters are in an easy place to reach to make the replacement easier.
Filter dryer
You should always consider installing a filter dryer in order to reap a lot of benefits that you may have. This filter dryer will remove damaging moisture and grit which will keep the system running more effectively while expanding its lifespan as well.
Design and balance of ductwork
It is always very important in order to make sure that your ducts are accurately sized and balanced all around your home in order to maintain comfort. In terms of energy efficiency, externally insulated round ducts are usually considered as the best.
Final Thoughts
Now you know the types of HVAC systems you can get for your home. Choosing the right HVAC system can lead to more energy efficiency and can save you a lot of your money in the long run. If you are still unsure which kind of system would be best for your situation, you could always ask for the opinion of one of our certified HVAC technicians at Alturas Contractors. By employing the help of an HVAC service provider, you will not only get good advice, but you can also get service that is safe and effective.