Ductless, mini split-system air-conditioners have numerous potential applications in residential, commercial, and institutional buildings
These quick-to-retrofit ductless AC systems provide unrivaled operating efficiency and room-by-room zoning comfort.
What is a Ductless Air Conditioner?
A ductless air conditioner, also known as a mini-split, includes one outdoor unit and one indoor unit, connected by refrigerant tubing and electrical wiring. It links individual room units to an outdoor compressor. Moreover, there is no need for ductwork in this type of air conditioner. 
The indoor unit is often wall-mounted and delivers warm or cooled air directly into the living space. The indoor unit contains evaporator coils cooled with refrigerant. Warm air from the room blows over and is absorbed by the coils. From there, the refrigerant transfers all the inside heat to the outdoor unit.
Difference between Ductless AC and Central AC
Both air conditioning systems produce cool air exactly the same way. Both suck in warm air, heat, and moisture from that air, then dump the heat and moisture outside. The main difference between the two systems is how they deliver cool air
Ductless AC blow cold air directly into the one area that it cools. These units don't need ducts because they only cool one room.
Central AC blow cold air into a network of air ducts where it's dispersed throughout the entire home
How does Ductless Air Conditioners work?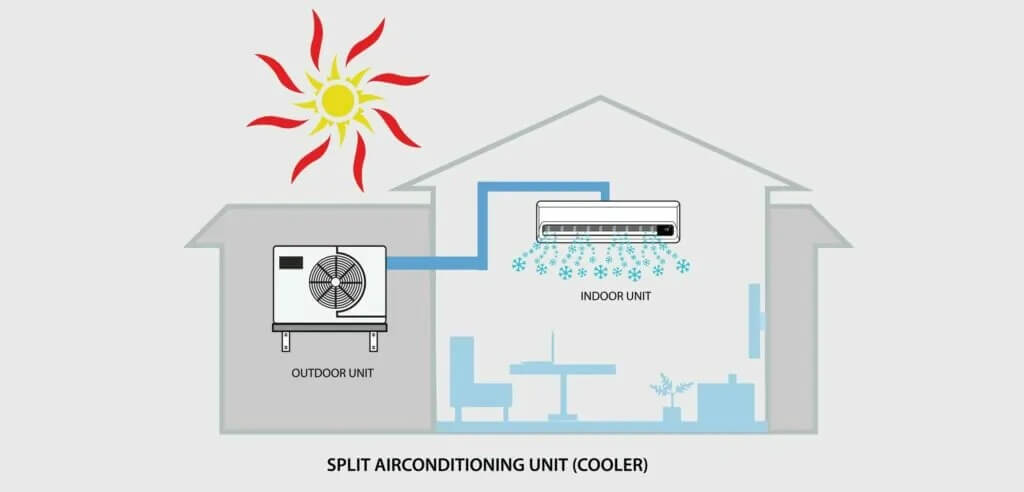 Ductless mini-split air conditioner systems follow the same process for cooling as a typical central air conditioning system. However, the difference is that central air conditioning uses one centrally located indoor unit. it then delivers cool air to the entire home through a series of ducts and vents. Whereas a ductless indoor unit blows cooled air directly into one room or living space. A complete ductless system includes the following three parts i.e
Indoor unit
Conduit
Outdoor unit with a compressor, condenser coil, and fan.
The indoor and outdoor units are connected with copper refrigerant tubing and electrical wiring.
Indoor/Evaporator unit
The evaporator unit is the "indoor unit" that sits on the wall of the room. The job of the evaporator unit is to suck in warm air from that room. It absorbs the heat and humidity from the air and then blows the cold air back into the room.
As the unit blows cold air into the room, it simultaneously sends all the heat and moisture it collected outside via the "conduit".
Conduit
A ductless AC "conduit" connects the indoor and outdoor units. The conduit is a thin, long cable that houses the power cable, refrigerant tubing, and condensate drain. The conduit provides electrical power to both indoor and outdoor units. Furthermore, it's also the pathway where the heat and moisture from inside your home exits and make their way toward the condenser.
Condenser
The ductless air conditioner condenser is the "outside" unit. Its job is to receive all the heat from inside your home and "dump" it into the outdoor air.
The outdoor compressor unit pumps chemical refrigerant through the refrigerant tubing to the indoor unit's coil. As the liquid refrigerant turns to gas, humidity and heat are removed from indoor air blowing across the coil. Cooler and less humid air is sent back into the living space. As heat energy is released through the outdoor coil, the refrigerant, in gas form, cycles back to the outdoor coil where it is converted to a liquid
Single and multi-zones systems
Ductless systems can be designed with either one or multiple indoor units. These units are powered by a single exterior compressor. The versatility of ductless systems makes them perfect to be used in commercial buildings. Besides, they are ideal for offices with attached unconditioned warehouse space, lobbies, sunrooms, garages, and other commercial spaces.
Single zone
In a single-zone ductless air conditioner, one indoor unit corresponds to one outdoor compressor. The compressor carries refrigerant and power to the interior unit via a small pipe. The pipe runs through a small opening, installed with very little impact on your home. Ductless mini-split systems can be installed to provide zoned heating and cooling in a home
Multi-zone
In a multi-zone ductless air conditioner, one outdoor compressor can power up to five indoor units. Each of the units is separately controlled by a wireless remote control. This offers you flexible options for configuring the temperature according to comfort. In addition to this, more units can also be added to your compressor in the future.
What are the Pros and Cons of a Ductless Air Conditioner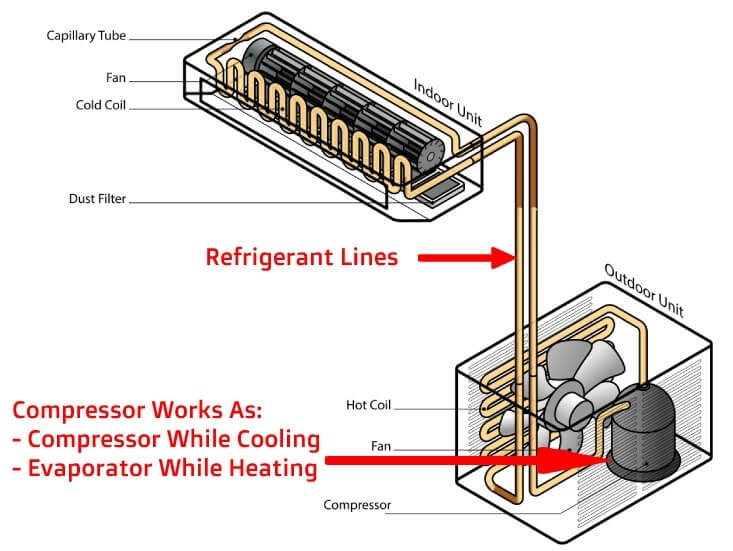 There are many advantages of setting up a ductless air conditioner such as
Easy installation
Highly energy efficient cooling system
Money saving with its affordable installation, fuel-saving energy efficiency
Less complex air conditioning repair
No hassle of installation of ductwork
Create zoned temperature control
Space saver with its trim, compact components
Great indoor air quality
No indoor wiring required
Preserve the integrity of an older home without space for ductwork or vents
Preserve the decor of indoor spaces with a low-profile unit
Besides all the pros, there are a few cons of a ductless air conditioner such as
The primary disadvantage of mini splits is their high cost.
Correct sizing of the system is important. Over-sized or incorrectly installed equipment often results in short cycling or wasting energy. An inappropriately installed equipment is unable to properly control the temperature or humidity.
Too large a system is also more expensive to buy and operate.
Related: Why an Oversized Air Conditioner is a Serious Problem
Ready To Go Ductless?
An air conditioning installation is more than just a purchase, it's an investment for your future. Therefore, it is important to have a professional install the ductless air conditioner in your area. If it is installed incorrectly or by an inexperienced technician, you can expect a higher consumption of electricity and even equipment malfunctioning.
Therefore, you'll want to choose the perfect ductless air conditioner and the best AC installation at your place.
Alturas HVAC contractors in Los Angeles have expertise and experience in the installation of all types of air conditioning systems. Our expert technicians specialize in installing various complex air conditioning systems. We not only provide HVAC equipment installation services but repair and maintenance services too.  Call Alturas HVAC contractors for further consultation and guidance. 
What is a Ductless Air Conditioner FAQ's
Which is better Ductless AC or Central AC?
Ductless systems are potentially much more efficient, therefore the utility cost is generally much as compared to a central air conditioner. They require little to no maintenance but the downside is that the initial cost is more. However, a ductless AC system saves you money in the long run due to its innovative and efficient technology.
On the other hand, central AC systems are less expensive and virtually invisible, but they do require annual maintenance.
Do ductless air conditioners need to be vented?
Ductless air conditioners don't need to be vented. Instead of investing in an entire HVAC system and running venting throughout your home or cabin, a mini-split is a better option as it has an exterior heat pump connected to one or more interior units with no need for venting. Mini-splits are ductless, therefore, installation is easy
What is the cost of ductless air conditioner?
One average, it costs between $2,000 and $14,500 to install a mini-split AC unit