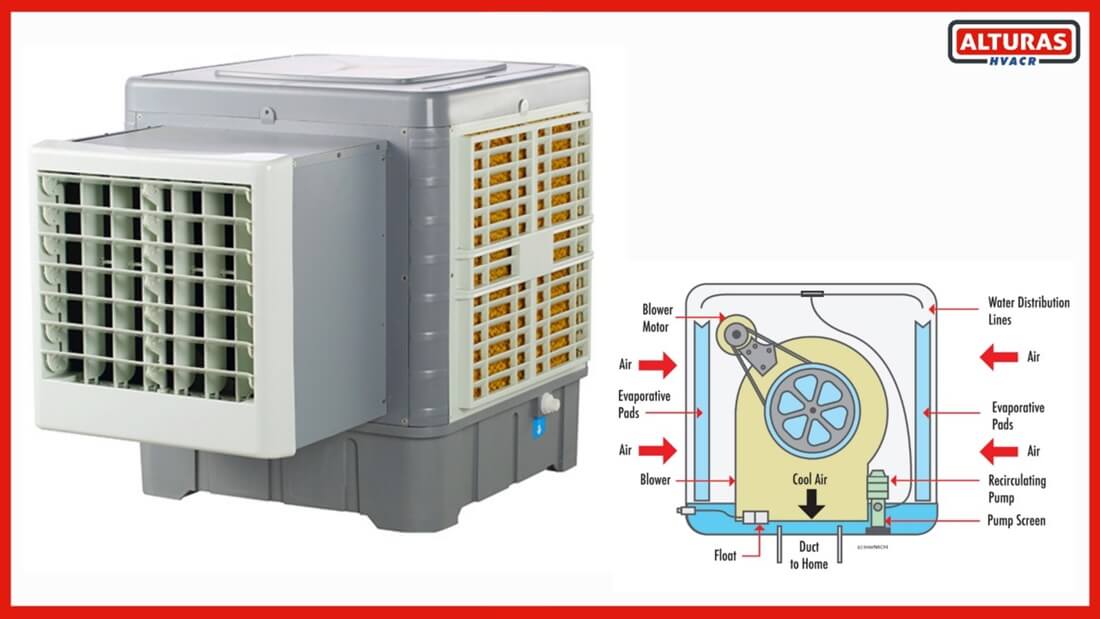 Commercial Swamp Cooler Installation Service in Los Angeles
With the weather warming up and the intense heat of summer just around the corner. What is better than a comfortable cool area to work in during Los Angeles hottest months? If you're looking for a way to cool your commercial or industrial area, an evaporative cooler, also called a swamp cooler, might be a good option for you. 
Call our experts at Alturas Contractors if you're looking for a efficient and cost-effective swamp cooler installation options in Los Angeles and around.
CALL US FOR COMMERCIAL SWAMP COOLER INSTALLATION. (323) 443-3443 FREE ESTIMATE TODAY!
Evaporative Cooler Installation
An evaporative cooler is a popular and effective way to cool homes and commercial and industrial areas in a hot and dry climate. 
If you are looking for swmap cooler installation experts call our experts at Alturas Contractors
Alturas Contractors will install your swamp cooler according to your needs. At Alturas Contractors, we'll double-check that each component is operating according to manufacturer specifications and that it's cooling properly. Before we go, our crew will double-check that you are completely happy with your new swamp cooler.
Book an Appointment Now!
24/7 Emergency Service
We offer 24/7 emergency Service for our new and existing customers. With strong focus on safety and quality of service, we are your trusted local hvac team for emergency hvac services.
Experienced Technicians
When its comes to HVAC installation, repair or maintenance, safety is our top priority. Alturas contractors team includes the best licensed technicians that are highly experienced in the relevant trade.
Competitive Pricing
We will match or beat any price that any other local service provider is offering, and with better service quality and satisfaction guarantee. Get in touch today and see us do it.
What is a Swamp cooler?
A swamp cooler, also known as an evaporative cooler, is a type of air conditioner that uses evaporation to cool the air. Swamp coolers work by pulling in hot, dry air and passing it over water-saturated pads. As the air passes over the pads, the water evaporates into the air, cooling it in the process.
Evaporative coolers are different from air conditioners. An air conditioner only blows temperature-controlled air into your home whereas an evaporative cooler blows wet air into your home. Rather than using a refrigerant to cool the air,  it cools air through the evaporation of water They use water and fans to suck in dry, hot air. The dry air is blown across a moistened pad. As the water evaporates into the air, the air's temperature lowers. In dry climates, it provides the additional benefit of adding moisture to the air by acting as a built-in humidifier
Benefits of Evaporative Air Cooler
Not only can an industrial evaporative swamp cooler help you conquer the scorching heat, but they also provide some additional benefits you may not be aware of. Let's take a closer look at these earth-friendly, versatile cooling machines.
Evaporative Swamp Coolers Freshen Stale and Dry Air
Swamp coolers are not only effective at keeping the temperature down, but also add moisture to the air if you live in a dry, hot climate. Because these coolers use water, the air from the cooler feels fresh as well as cool as it contains moisture in it.
Less energy consumption
One of the best reasons to get a swamp cooler is to save money. It consumes up to 75 percent less energy than most of the traditional air conditioners we use. They also do not require any chemicals in the way that traditional AC does, which is better for the environment. Evaporative coolers only consume electricity and water, so their operating and maintenance costs are significantly lower than HVAC systems.
Easy Installation
A swamp cooler or evaporative is easier to install than other air conditioners.
Suitable for industrial and commercial area cooling
Swamp coolers are best suited for large warehouses, industries, and workshops because they're easy to use and can operate at half the cost of air conditioning. They are capable of filtering outdoor air and raising the humidity, which is beneficial in a dry climate.
Keep Pets Cool
A swamp cooler can be a lifesaver for a home-alone pet. It provides continuous cooling for indoor pets when connected to a garden hose for the water source. If you have a barn or a horse stable, installing a swamp cooler can keep your pets cool in hot climates with less electricity consumption. They are ideal to be installed around kennels, in veterinary practices, and in other places where pet animals live.
Evaporative Coolers can act as a Powerful Fan
Many heavy-duty evaporative coolers with high CFMs can be set on  "Fan-only" mode. This turns them into high-velocity and powerful fans to circulate air through large commercial spaces like garages, warehouses, markets,  garden supply stores, etc.  Most have oscillating louvers so that the airflow can be spread over a wider area, keeping staff and customers comfortable. It also helps to keep the bugs at bay.
Swamp commercial evaporative cooler is Eco-friendly
The lack of refrigerant chemicals and coolants makes industrial evaporative or swamp coolers a safe choice for the environment.
Swamp Cooler Installation results in healthy air
Many evaporative coolers include air filters and ionization features to eliminate irritants and harmful particles. They have the additional benefit of raising the humidity to a healthier, more comfortable level, making it easier to breathe.
It eradicates any dryness present in the atmosphere and increases humidity levels. Adding a little moisture to your surroundings can benefit your health. A swamp cooler can reduce the temperature in your home by about 20 degrees.
Keep Bugs Away
Along with warm weather, summers bring out insects along. The powerful fan of an outdoor evaporative cooler can bring around 11,000 cubic feet per minute (CFM) of airflow, sweeping away bugs and insects from outdoor tables, deck chairs, and poolside lounges.
Call for Swamp Cooler Installation
Common FAQ's about Evaporative Cooling
How much does it cost to install a commercial evaporative swamp cooler?
Swamp coolers are a more affordable alternative to air conditioners, as they use water, a fan, and a motor to cool down the air and humidify it. The average cost for a basic swamp cooler installation is $1,500 to $3,500. However, prices can vary and start from as low as $150 for a basic portable swamp cooler and can be up to $7,000 or more for a large roof-mounted unit that is professionally installed.
What are the types of commercial evaporative swamp coolers?
There are different types of swamp coolers. Some are portable and others can be fixed to the wall. Some fixed cooler units blow air straight into the building, while others use duct systems to transfer the air to multiple locations. Our Alturas HVAC technicians will analyze the size of your space, and your geographic location and recommend you most suitable evaporative swamp cooler for you. Generally, there are three types of swamp coolers:
Direct evaporative air coolers
Indirect evaporative air coolers
Mounted "draft" air coolers
How long does it take to install a new swamp cooler?
It usually takes around 3-4 hours to install a new swamp cooler. This includes the time it takes to set up the unit, as well as the time it takes to fill it with water and add the necessary chemicals.
Here's Why Alturas Contractors is the first choice for all HVAC services of Los Angeles' local businesses.
24/7 Emergency hvac Services
Over 10+ years of industry experience
Competitive / affordable Pricing
Specialize in Commercial HVAC
Licensed & Certified Local Contractors
Quality and Service Guarantee
*Fill in the form to get a quick service quote or to consult an HVAC technician for free estimates.
Commercial Swamp Cooler Installation Services Los Angeles
Top rated Commercial Swamp Cooler Installation services in Los Angeles. Contact Alturas Swamp Cooler Installation experts for all HVAC Services near you
Service Type: Air Conditioning Repair and Installation
Price: starting from 300
Currency: USD
Providing Services in Local Areas around LA
Find Alturas Contractors in your local area for all HVAC services near you.
Alhambra

Bel Air

Beverly Hills

Brentwood

Burbank

Culver City
Los Angeles

Marina Del Rey

Monterey Park

Pacific Palisades

Pasadena

Santa Monica
Glendale

Hollywood

West Hollywood

Woodland Hills

Studio City

Tarzana
Echo Park

Encino

Sherman Oaks

Silver Lake

Venice

Westwood
Don't see Your Location? No Problem. Call our support to check for a possible solution.
(323) 443-3443