During the whole summer season, you would definitely need your air conditioning unit to work properly so that it can keep your home cool and comfortable to live in. This is the reason that when all those issues demand air conditioning repair, you must reach out to your preferred HVAC contractor right away. One of the perfect ways you could stay on top of what needs to be done or which air conditioning services are on the schedule is to have a proper Air Conditioner Maintenance Checklist
Central Air Conditioner Maintenance Checklist
According to our thorough research general central air conditioner maintenance must include the following checklist points:
Get the right equipment installed properly and correctly
Replacing the old equipment would be the best way for you to save energy costs and a lot of your money. In order to reach its full potential, your whole system has to be the perfect size for your home and be appropriately installed preferably by some professionals. Any sort of inappropriate installation, as well as sizing, can drastically reduce the productivity of your system. Even before the summer weather hits, you must schedule time at the start of the spring season in order to run through an AC maintenance checklist for your ease in the future and to avoid any sort of hassle.
All of the AC contractors are usually kept very busy in the summer as well as the winter, so it would be the best decision for you to have an Air Conditioner Maintenance check in the spring and also in the fall seasons. Proper scheduling of an off-season tune-up would help in preventing any sort of problems even before they happen. There are a lot of steps that you can take all by yourself, that includes scheduling a routine check-up with your HVAC certified professionals in order to get your system ready for summer.
Check your thermostat settings
Always try and make sure that your system is keeping you comfortable, especially at that time when you are home and that saves energy while you are away from your home. Properly installing an appropriate programmable thermostat would be one of the cheapest and easiest ways in which you can save energy cost as it would automatically regulate your home's temperature and that totally depends on your entire family's schedule.
Run the air conditioning prior to warmer weather
What you can do is just run a test for nearly about 10 minutes so that you may check for any warning signs in case there are. If you kept on waiting till summer when it would be in full swing to check for any sort of issues that might put you at the bottom of a long waiting list as well as hassle.
Change filters regularly
This is the most important step in the ac maintenance, you must inspect the air filter after every month and replace the on-time whenever required. In that case, if it looks dirty after a month or so, you may have to change it immediately. At a minimum, you can change the filter after every 3 months so that you can improve the air quality as well as efficiency.
Check the area surrounding your outdoor unit
For this step you can remove any leaves as well as debris that is there around your system, you can also trim any of the bushes that are nearby and clean out all those leaves and dirt from the top of the AC unit in order to improve airflow. While hiding the AC unit behind all those shrubs and trees can also help your curb appeal, it may hinder the airflow and as result, it can cause your system to work even harder than it is required.
Seal ducts properly
In case your ducts are leaking in any way, or air is leaking into any of the spaces in your home that you do not want to be cooled and it is also affecting the efficiency of your system you might have to consider sealing the ducts properly.
Clean the drain pipe
You must always consider cleaning the drainage pipe as a blocked drain pipe have the chance to lead to a lot of leaks that may also cause cracks in the piping system.
Clean the Evaporator and Condenser coils
Basically, the evaporator and the condenser coils are the areas which is the most prone to accumulating any sort of dirt as well as mold. Keeping these spaces clean would definitely increase your unit's efficiency and life.
Examine the refrigerant levels
Always try to make sure that there is enough refrigerant (Freon) so that your whole unit does not have to work harder than it should. In case these levels are low this would signify that your whole system has a leak somewhere and that is not at all good for your system.
Examine all the electrical components and controls
Always try to make sure that everything is properly working as it should in order to reach its full energy efficiency and functionality. You may have to tighten all the electrical connections and also measure the voltage on the motors.
Lubricate all the moving parts
All those parts that in any case demand, but for some reason lack lubrication will definitely cause friction in motors and cause an immense increase in electricity bills.
Clean all blower components
Airflow problems can reduce your system's productivity and a clean airflow will decrease debris and dirt from being circulated around the whole house.
Split unit Air-Conditioner Maintenance Checklist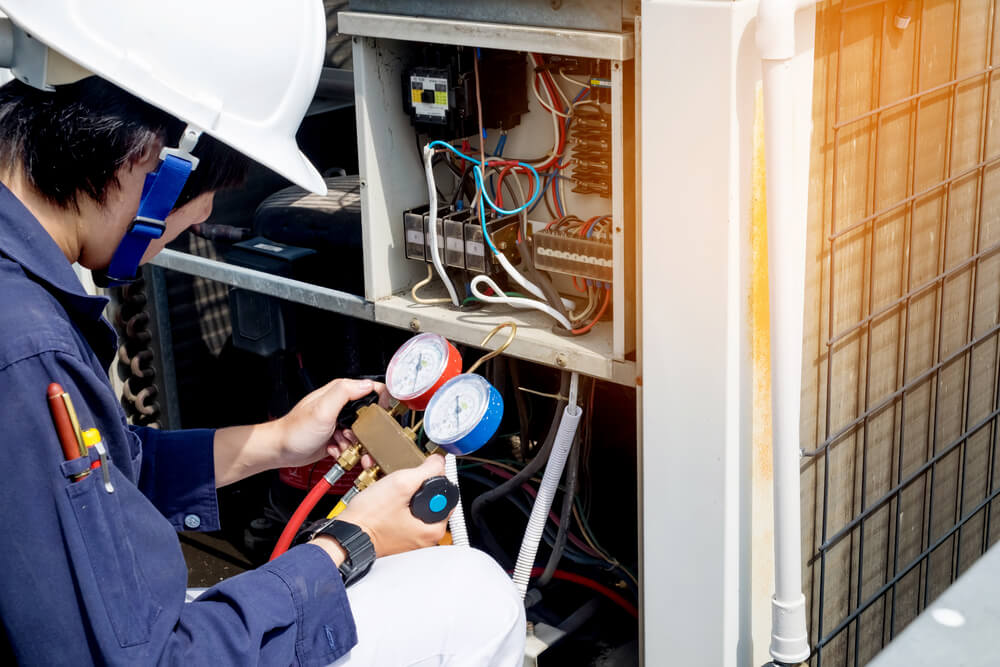 Well, the split air conditioners that are also called ductless air conditioners are basically some of the most efficient cooling options that are available nowadays but they would only work to their full capacity if you maintain them properly. While you will have to leave most routine Air Conditioner maintenance to a professional, there are some steps you can take to keep your ductless system functioning properly and they are not different from a regular air conditioner in any way.
The checklist for Air Conditioner Maintenance includes
1. Keeping the outside clear
Any sort of collected dust and debris would cause big problems for your split system. You must include your Air Conditioner in the weekly dusting routine you would just have to wipe it down with a damp cloth. Also, make sure that outdoor vents are free from any sort of blockages.
2. Give the unit space
Even though ductless air conditioners would need less space as compared to central air conditioners, they would only work best if you gave them enough room to function. You must try to keep space between the unit and furniture or any sort of art piece, that can gather efficiency-depriving dust. You must consider giving your split system at least four feet of surrounding space in every direction.
3. Clean and replace filters when required
All those clogged filters would reduce the functionality of your ductless system by as much as 20 percent. You must always follow the manufacturer's instructions in order to maintain your filters, and make sure that you clean or replace them at least once a month during the summer season.
4. Clean the coil and condenser
Same as in the regular air conditioner you must consider cleaning the coils and the condenser of your split air conditioner. The outside area of your split system also needs care. You must try and keep it free of dirt and debris. All you can do is just make sure all components are powered off before you start your cleanup.
5. Monitor the pipes
The pipes that let cold (or warm) air into your home can gather dirt and dust, too. Pipes can also develop a lot of leaks. You must keep an eye on your pipes from time to time when you clean your filters.
6. Call in the Pros
Most of the routine air conditioner maintenance is best when they are left to professionals. Annual tune-ups give engineers a chance to look for hose blockages. They can easily identify refrigerant leaks, investigate electrical issues, and more any other actions that can help you avoid costly repairs later on.
Do Air Conditioners need Annual Maintenance?
Any air conditioner's filters, coils, and fans would definitely demand regular air conditioner maintenance for the whole unit in order to function effectively and efficiently throughout the year. e. In case you avoid all these important air conditioner maintenance schedules, you will see a steady decline in air conditioning performance hence energy usage would progressively increase.
How to do maintenance on the Air Conditioner?
The most important air conditioner maintenance task that will make sure that the efficiency of your air conditioner is to regularly replace or clean its filters. Any sort of clogged, dirty filters would lead to reducing the amount of airflow and it would drastically reduce a system's efficiency.
With the necessary air conditioner maintenance checklist, you must also consider these points in order to make your air conditioner work in the most efficient way.
All these aluminum fins on evaporator and condenser coils tend to bend very easily so they can block all the airflow through these coils. All the air conditioning wholesalers usually sell a tool that is called a "fin comb" that will comb these fins back into nearly original condition.
You can occasionally pass a stiff wire through the unit's drain channels in order to clear the path. All these clogged drain channels would help in preventing the whole unit from reducing humidity, and the resulting excess moisture may lead to discolored walls or even the carpet.
At the beginning of each cooling season, you must consider inspecting the seal that is between the air conditioner and the window frame in order to make sure that it contacts the unit's metal case. As the moisture can damage this seal which would allow cool air to escape from your house.
In the winter season, you can either cover your room's air conditioner or even remove and store it in a safe place. Properly covering the outdoor unit of a central air conditioner would protect the unit from winter weather and any sort of debris.
When your air conditioner needs more than regular maintenance, such as when it does not reduce the indoor temperature to a comfortable level, you must consider hiring a professional service technician. Any well-trained technician would find and fix any problems in your air conditioning system.
Checklist for Air Conditioner Maintenance by HVAC Professionals
The HVAC Technician would help you in:
Check for the correct amount of refrigerant
Check for refrigerant leaks using a leak detector
Capture any refrigerant that must be cleared from the system, instead of illegally releasing it into the atmosphere
Check for and seal duct leakage in central systems
Measure airflow through the evaporator coil
Verify the correct electric control sequence and make sure that the heating system and cooling system cannot operate simultaneously
Inspect electric terminals, clean, and tighten connections, and apply a non-conductive coating if necessary
Oil motors and check belts for tightness and wear
Check the precision of the thermostat.