Commercial Refrigeration service Company in Los Angeles, CA
Alturas contractors is one of the most reputed commercial refrigeration service companies in Los Angeles. Our team of professional and experienced HVAC technicians provides all types commercial and industrial refrigeration services.
Freezers
Walk in Cooler
Blast Freezers
CALL US FOR COMMERCIAL REFRIGERATION INSTALLATION. (323) 443-3443 FREE ESTIMATE TODAY!
Industrial Refrigeration Installation; Cold Storage Rooms and Central Refrigeration System installation Service
Meet the team of expert refrigeration installers with years of experience. We are a local cold storage installation company with expertise in building and designing cooler rooms and commercial refrigeration system installs. We offer 24 hour emergency repairs in Los Angeles' neighboring areas. Offering commercial air conditioning, refrigeration & equipment installation services for restaurants and supermarkets.
Get a Free estimate for cold storage installation services from Alturas' refrigeration experts.
Free Estimate and Quote
Los Angeles Refrigeration Service : Installation and Repairs
Blast Freezer Chiller Services
24 hour Emergency Commercial Refrigeration Repair Services Near you
For any commercial setup, refrigeration malfunction means lost business. If you are a restaurant owner, and your perishable items go to waste because of the inadequate temperature inside the unit. Not to mention the health hazards which can result from spoiled food and beverages. Or if the ice machine stops working.
Hence, for situations like these, you need to contact a reliable 24 hour refrigeration repair company near you. We are well-stocked with common appliance parts to ensure quick and reliable emergency refrigeration repair service. Businesses in LA rely on our experts for refrigeration system repairs that are high quality and affordable.
Our team at Alturas Contractors specializes in Commercial Refrigeration systems and appliance repair services including Walk in Coolers and Freezers. Our certified HVAC technicians have been servicing Refrigeration systems for years. We serve greater Los Angeles area and San Fernando valley.
Get A Quote
Common Problems with Refrigeration Systems that require a Service Call
If you are a restaurant owner, you already know the importance of smooth running refrigeration system. You cannot afford to lose customer due to faulty refrigerators. Our team of experienced HVACR technicians can help you with all kinds of refrigeration appliance problems. And offer a reliable and affordable solution to most common issues e.g.
Unpleasant Odor
Temperature issues
Lighting issues
Touch Panel issues
Freezer burns
Poor Air flow
Refrigerant Issues
Humming sound from refrigerator
Compressor problems
Complete Shutdown of equipment
Contact the best Los Angeles Commercial refrigeration contractors for professional repair, installation and maintenance of refrigeration systems. 
Contact Us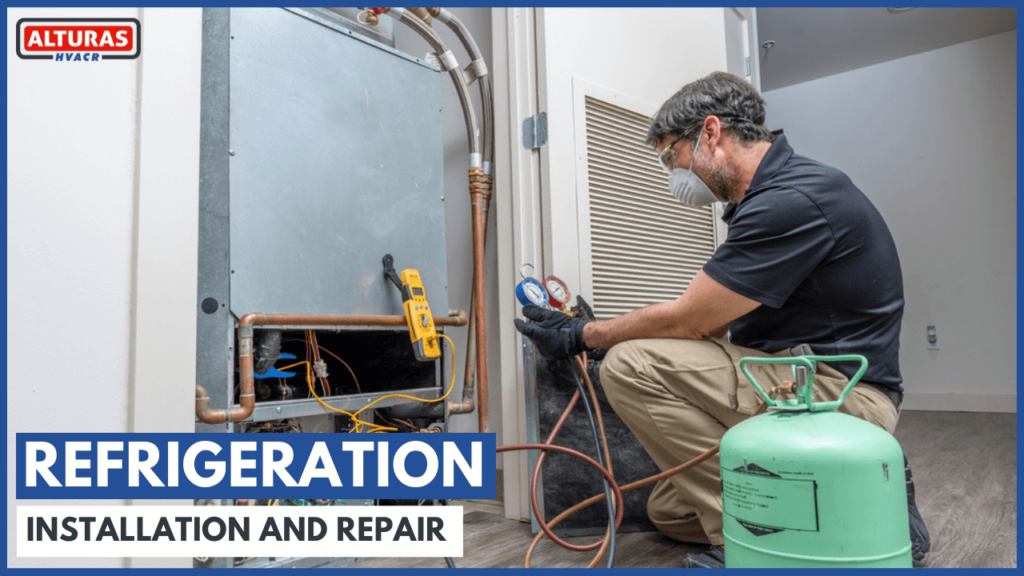 Common Industrial Refrigeration Systems we Service
Alturas' refrigeration specialists understand the importance of an refrigeration systems for commercial setups. We specialize on all modern refrigeration appliance brands installation and repairs for any industry including
Grocery stores
Catering companies
Kitchens for hospitals
School Kitchen Services
Agricultural cold storages
Get Consultation
Refrigeration System Brands that we Service
Our technicians can service all kinds of refrigeration equipment including modern commercial freezers and cold storages. We specialize in refrigeration appliance repair for the all major brands, regardless of the make and model.
Bosch
Maytag
KitchenAid
Marvel
Fisher & Paykel
Haier
GE
Sears
Sub-Zero
Marvel
LG
Dacor
Frigidaire
Commercial Refrigeration Services Los Angeles
Commercial Refrigeration Services in greater Los Angeles. Contact top rated industrial refrigeration service company near you. walk-in coolers freezers
Service Type: Commercial Refrigeration Services in Los Angeles
Price: starting from 500
Currency: USD