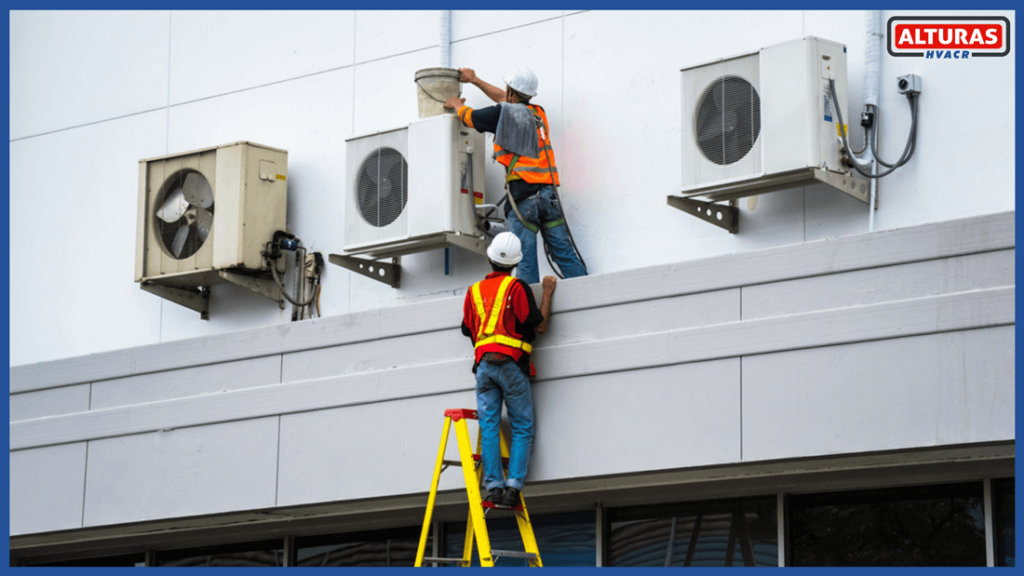 Commercial Air Conditioning Repair Service Los Angeles
Has your office or room air conditioner started malfunctioning? Is your restaurant air conditioner suddenly stopped throwing cool air when the summer season is around?
Don't let a crashed air conditioner leave you or anyone around you sweating! Pick up your phone and call Alturas HVAC Contractors for an emergency Air conditioner repair service in Los Angeles. Our professional and expert technicians will quickly diagnose and address your AC issues so you can resume your business. Our commercial HVAC Contractors ensure efficient operation and increase your AC life expectancy.
CALL US FOR COMMERCIAL AIR CONDITIONING REPAIR. (323) 443-3443 FREE ESTIMATE TODAY!
Commercial Air Conditioning Repair
Air conditioners are an essential component of Industrial and commercial areas as they control the temperature of the area to prevent extremes of heat and humidity. They are an integral part of an industrial plant as they ensure that production machines work efficiently and that the employees and staff are comfortable while working. Spaces like warehouses, shopping malls, large offices, department stores, and even medium-sized businesses benefit from industrial air conditioners
We provide free estimates at Alturas Contractors so you know precisely what to expect and there are no surprises. You can trust our experience and devotion to get the job done perfectly the first time and keep your system running at optimal performance.
Book an Appointment Now!
24/7 Emergency Service
We offer 24/7 emergency Service for our new and existing customers. With strong focus on safety and quality of service, we are your trusted local hvac team for emergency hvac services.
Experienced Technicians
When its comes to HVAC installation, repair or maintenance, safety is our top priority. Alturas contractors team includes the best licensed technicians that are highly experienced in the relevant trade.
Competitive Pricing
We will match or beat any price that any other local service provider is offering, and with better service quality and satisfaction guarantee. Get in touch today and see us do it.
Common Air Conditioning Repair Services we provide:
Our specialists at Alturas are capable of tackling even the most stubborn commercial air conditioning issues:
Refrigerant leak 
One of the most common commercial air conditioning problems is leaking refrigerator coolant. It can occur due to old parts or weather conditions.  A hissing sound typically indicates a refrigerant leak. A leak in coolant affects the efficiency of the air conditioner and slows down the cooling. It forces the condenser to work harder than usual and increases your electricity bill. 
Faulty Thermostat
The thermostat is the main component of the entire HVAC system. One of the common signs of a faulty thermostat is when your HVAC unit won't turn on. The thermostat transmits electrical signals to your heating and cooling system via wires. A wiring issue stops electrical signals from going to your air conditioning unit. However, many problems actually stem from a faulty thermostat.  A commercial air conditioning repair may identify the settings that might be incorrect, or in some cases, the thermostat may need to be replaced.
No power  
A Faulty wiring or tripped breaker might cut the power supply to your air conditioner. It can also shut down if it's over-heated. Our air conditioning repair and service technicians diagnose the issues to prevent them from reoccurring.
Poor Air Balance
Cold air from a commercial AC unit flows through several ducts before reaching the rooms. If you experience any of the rooms receiving less cold air while others cooling properly, there might be poor air balance. There can be a lot of reasons for poor air balancing like leaks in the ductwork, improperly sized filters, worn-out blowers, and exhaust fans, and broken or poorly installed air dampers. To diagnose the actual problem you need an experienced commercial HVAC technician to track down the issues and fix them. 
Worn-out fan belt 
If you hear loud Squealing sounds when the AC is turned on, it indicates a worn-out fan belt. Another reason can be a loose belt, or perhaps water or oil contamination. If left untreated, the belt can get a fracture,  resulting in more expensive repairs. Our technicians are well-versed in replacing worn-out fan belts.
Broken fan motor 
If your air conditioner's fan motor is defective or broken, repair or replacement is inevitable. Signs on a broken fan motor are:
The fan won't start although the AC is on.

The fan won't stop, even when you shut the AC off.

There's a rattling noise coming from the condenser unit when the fan is turned on.

The fan turns on but the blades are rotating very slowly.
Frozen evaporator coil 
The most common reason for frozen evaporator coils is insufficient airflow. This is usually caused by clogged or dirty air filters, backed-up drain clogs, and dirty evaporator coil low fan speed. Alturas technician will get to the bottom of the warm air and efficiently fix the problem. 
Defective compressor 
If your fan is operating but the air coming out of your vents feels warm, it indicates a faulty compressor. As this is an expensive component, it is better to discuss your repair or replacement options with Alturas HVAC contractors. 
Clogged condensate drains 
Algae, insects, mold, dirt, and debris can collect in condensate drains, resulting in leaks or clogged drains. Alturas technician will flush your Air conditioning system and prevent future clogs by applying an algaecide to the condensate drain.
Call for Emergency HVAC Repair Los Angeles
Common Commercial Air Conditioning Problems:
Unless your system has completely stopped working, the decision to replace your Air conditioner can cost you an arm and a leg. It is always recommended to call Alturas HVAC Contractors. Our team of Experts will evaluate your system, diagnose the issue and resolve it in the cheapest way possible. Following are some of the common problems of air conditioners that our commercial air conditioning service technicians deal with day to day:
Uneven temperatures

Loud noises

The air conditioner won't turn on.

Noise or excessive vibration while the air conditioner starts or operate.

Increased Humidity problems

The compressor has stopped working.

System starting and stopping

The fan doesn't operate

The air conditioner is blowing warm air.

Excessive dust in the filters

Water pooling around the air conditioner.

High energy bills
Emergency Air Conditioning Repair Los Angeles
The objective of your air conditioner is to keep you and your clients comfortable indoors. When an air conditioner fails, it may be both costly and inconvenient. Our team at Alturas Contractors makes air conditioning repair, installation, and maintenance a breeze.
In order to execute their job, we at Alturas Contractors evaluate and verify every person to ensure that they are skilled, honest, and reliable. As a result, all of our customers can rest assured that their new or repaired air conditioners will function properly and efficiently.
It might be difficult to decide whether to replace or repair your air conditioner. We'll assist you by thoroughly inspecting your unit or system to see whether it can be repaired for a reasonable price or if you'd be better off letting us select and install a new, low-cost, high-efficiency air conditioner.
Top rated Commercial AC Repair company in Los Angeles
So, if your air conditioner breaks down, it's critical to find a reputable repair provider as quickly as possible. Look no farther than the Alturas Contractors team of professionals. We'll get your air conditioner back up and running so you can get back to feeling comfortable. Our excellent HVAC services have been recognized by both customers and industry groups.
Common FAQs about Commercial Air Conditioning Repair
What are some signs that my commercial ac needs an emergency service or repair?
Alturas HVAC Technicians offer quick responses and emergency repair services. We are available 24/7 and work around your schedule. Your commercial Air conditioner needs an emergency repair service if:
The air conditioner won't turn on.

Noise or excessive vibration while the air conditioner starts or operate.

The compressor has stopped working.

The fan doesn't operate

The air conditioner is blowing warm air.

Water pooling around the air conditioner.
Call Alturas Commercial Air conditioner repair service in Los Angeles right away if you experience any of the above-mentioned signs. 
Do Alturas HVAC Contractors provide Air conditioning Preventive Maintenance?  
Alturas HVAC Contractors aim at keeping your air conditioning system and other HVAC appliances in the best shape. Hence, our technicians are available for recommended tune-ups twice a year. Nothing can protect your HVAC air conditioning system like a proactive preventive maintenance plan.  Without wasting further time we come to your place to get your HVAC system working again as quickly as possible to save you from further inconvenience. 
Does Alturas HVAC Contractors provide Routine Air Conditioning Repairs?
For HVAC air conditioning repair needs that are not too urgent, our hassle-free schedule system will benefit you. Just set up an appointment at your convenience and our experts will arrive at your proposed time and provide HVAC services 
What are the main types of commercial air conditioning systems?
Alturas HVAC Contractors provide repair and installation services for several commercial air conditioner systems including
Ductless, Mini-Split Air Conditioner

Multi-Split Air Conditioning system

Central Air Conditioning

VRF or VRV air conditioner

A packaged Terminal Air Conditioner (PTAC)

Vertical Terminal Air Conditioners (VTAC)

Window Mount AC Units

Chillers
Here's Why Alturas Contractors is the first choice for all HVAC services of Los Angeles' local businesses.
24/7 Emergency hvac Services
Over 10+ years of industry experience
Competitive / affordable Pricing
Specialize in Commercial HVAC
Licensed & Certified Local Contractors
Quality and Service Guarantee
*Fill in the form to get a quick service quote or to consult an HVAC technician for free estimates.
Commercial Air Conditioning Repair Services Los Angeles
Top rated Commercial Air Conditioning Repair services in Los Angeles. Contact Alturas Air Conditioning Repair experts for all HVAC Services near you
Service Type: Air Conditioning Repair and Installation
Price: starting from 300
Currency: USD
Providing Services in Local Areas around LA
Find Alturas Contractors in your local area for all HVAC services near you.
Alhambra

Bel Air

Beverly Hills

Brentwood

Burbank

Culver City
Los Angeles

Marina Del Rey

Monterey Park

Pacific Palisades

Pasadena

Santa Monica
Glendale

Hollywood

West Hollywood

Woodland Hills

Studio City

Tarzana
Echo Park

Encino

Sherman Oaks

Silver Lake

Venice

Westwood
Don't see Your Location? No Problem. Call our support to check for a possible solution.
(323) 443-3443