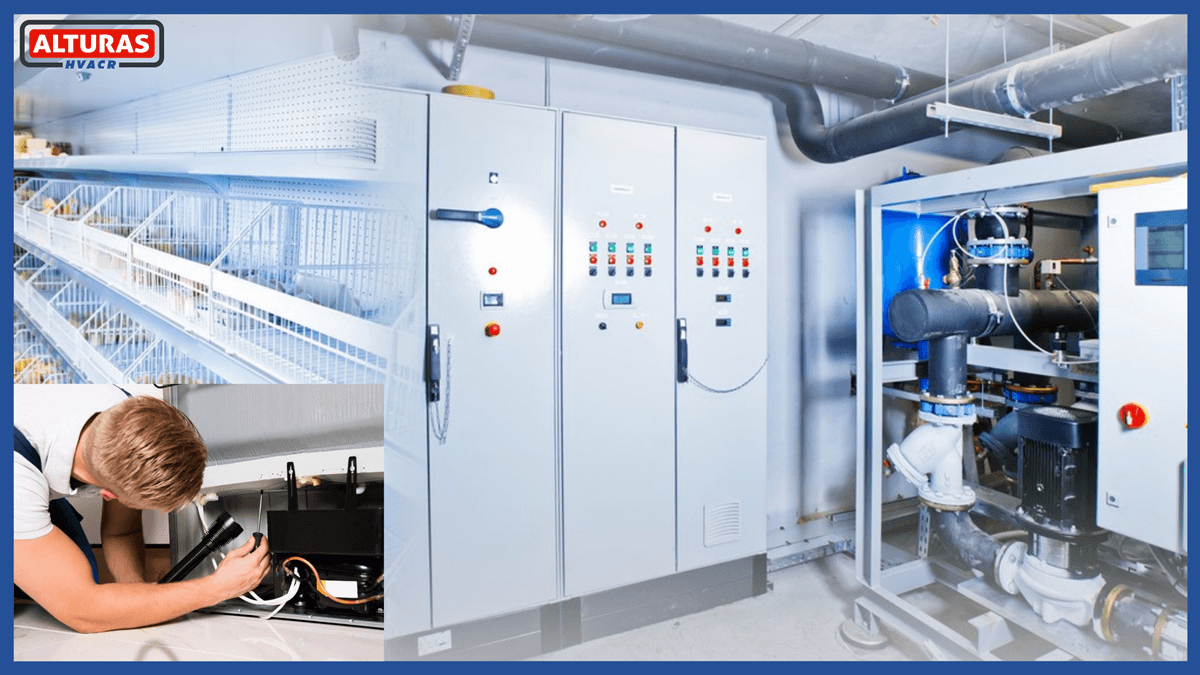 Commercial Walk-in Cooler Repair Service in Los Angeles
Are you looking for affordable, on-demand cooler repair and maintenance service in Los Angeles for your malfunctioning commercial cooler?
Then look no further as Alturas Walk in cooler repair and maintenance service has come to the town. We are HVAC Specialists equipped with all the necessary tools and equipment to repair and provide maintenance services for your commercial coolers at your doorstep.
We are your absolute trust-worthy commercial cooler specialists, who put customer's satisfaction at top priority.
CALL US FOR COMMERCIAL WALK IN COOLER REPAIR. (323) 443-3443 FREE ESTIMATE TODAY!
Walk in Cooler Repair Services Near You
For the food and beverage industry, storing the products at an optimum temperature to maintain the quality of the food is inevitable. An underperforming cooler can be havoc especially in the summer months in Los Angeles, as it can risk the food inventory leading to contamination and food going bad, therefore negatively impacting your business.
If you experience an unexplained squeaking and rattling sound, sudden sky-rocketed bills or the cooler suddenly quit working altogether, it's time to call HVAC specialists to rectify the problem.
We diagnose the problem quickly and determine the best solution possible to save our customers from any further inconvenience. Our professional and experienced technicians will ensure low electricity bills and commercial cooler's life expectancy 
Book an Appointment Now!
24/7 Emergency Service
We offer 24/7 emergency Service for our new and existing customers. With strong focus on safety and quality of service, we are your trusted local hvac team for emergency hvac services.
Experienced Technicians
When its comes to HVAC installation, repair or maintenance, safety is our top priority. Alturas contractors team includes the best licensed technicians that are highly experienced in the relevant trade.
Competitive Pricing
We will match or beat any price that any other local service provider is offering, and with better service quality and satisfaction guarantee. Get in touch today and see us do it.
Commercial Walk in Cooler Repair
In case your commercial walk-in cooler starts to malfunction, it needs to be addressed as soon as possible to reduce the impact. Same as most commercial appliances and electronics, it takes a well-trained and skilled technician to diagnose and repair a walk-in cooler.
By choosing an experienced commercial walk in cooler repair company for regular maintenance, you may cope with major problems before they even occur. If you keep on waiting until your walk-in cooler needs a major repair can mean a higher expense and more downtime for your equipment.
That's why it is really very important to find a company you can trust to perform regular maintenance on your appliances. Through routine maintenance and inspection, many potential problems can be diagnosed early and corrected before an emergency repair is needed.
Alturas Contractors is one of the top providers of commercial walk-in cooler repair and maintenance in your area. Also to commercial appliance repair, Alturas Contractors can help you with your home appliance repair and HVAC service needs. 
Signs of an Emergency HVAC repair:
Our technicians are skilled to handle any emergency. Below is the list of the problems we solve day to day. 
Less Cooling:
Our technicians will identify if the commercial cooler's compressor is not functioning properly, if there is a leak or if the door's seal is worn out. In some cases, there is an issue with the evaporator too. 
Sudden Collapse of cooler:
Our technicians will figure out if there is a tripped breaker or blown fuse. Our professionals will run a full diagnostics of the commercial cooler. We will not only make your walk-in cooler functional, but will also prevent it from happening again in future.
Ice Buildup:
Ice buildup on the evaporator coil, air ventilation or drain pipe is alarming and can be threatening to your food inventory. Consider contacting Alturas Contractor service as soon as possible to sort out the problem. 
Unexplained Whistling or Rattling noise:
When the commercial cooler is operating below optimum efficiency, the customer's life is at a stake. Sharp or mild sounds coming out of the commercial cooler is an indication that you may consult a commercial HVAC service provider. 
Motor constantly running:
If the coils are covered with dust or dirt, the commercial cooler may not function properly and the temperature may get warm. It will force the compressor to run constantly to keep the inner temperature optimum impacting the electricity bill. Getting the coils clean by Alturas HVAC specialists can maintain the cooler's optimum function. 
A burning or smoke smell
If you experience any pungent burning or smoke smell, turn off your cooler and call Alturas HVAC specialists immediately for an emergency cooler repair. 
Worn-out parts
Replacing a few parts of your walk-in commercial cooler can bring a drastic change in the performance and look of the cooler. Alturas Walk in cooler repair and maintenance service provide parts repairing and replacement services to the customers. 
Common FAQs about Commercial Walk in Coolers
What brands can you fix?
Alturas Walk-in cooler repair and maintenance service providers are trained and equipped to service all the makes and models of walk in coolers
How much does it cost to repair the cooler?
We provide repair and maintenance services at more reasonable prices than any other local service provider offering the best service and customer satisfaction.
How long does a walk-in cooler compressor last?
The life expectancy of a walk-in cooler compressor may vary depending on its upkeep and   how often it is examined for any repairs. However, the average lifespan of a walk in cooler compressor is around 10 years.
What temperature should a commercial cooler be set at?
The Ideal Temperature for a Commercial refrigerator is 38F. 
Here's Why Alturas Contractors is the first choice for all HVAC services of Los Angeles' local businesses.
24/7 Emergency hvac Services
Over 10+ years of industry experience
Competitive / affordable Pricing
Specialize in Commercial HVAC
Licensed & Certified Local Contractors
Quality and Service Guarantee
*Fill in the form to get a quick service quote or to consult an HVAC technician for free estimates.
Commercial Walk in Cooler Repair Los Angeles
Commercial Walk in Cooler Repair services in Los Angeles. Contact Alturas Walk in Cooler Repair HVAC contractor near you
Service Type: Commercial Refrigeration Services in Los Angeles
Price: starting from 500
Currency: USD
Find Alturas Contractors in your local area for all HVAC services near you. 
Alhambra
Bel Air
Beverly Hills
Brentwood
Burbank
Culver City
Los Angeles
Marina Del Rey
Monterey Park
Pacific Palisades
Pasadena
Santa Monica
Glendale
Hollywood
West Hollywood
Woodland Hills
Studio City
Tarzana
Echo Park
Encino
Sherman Oaks
Silver Lake
Venice
Westwood
Don't see Your Location? No Problem. Call our support to check for a possible solution. (323) 443-3443