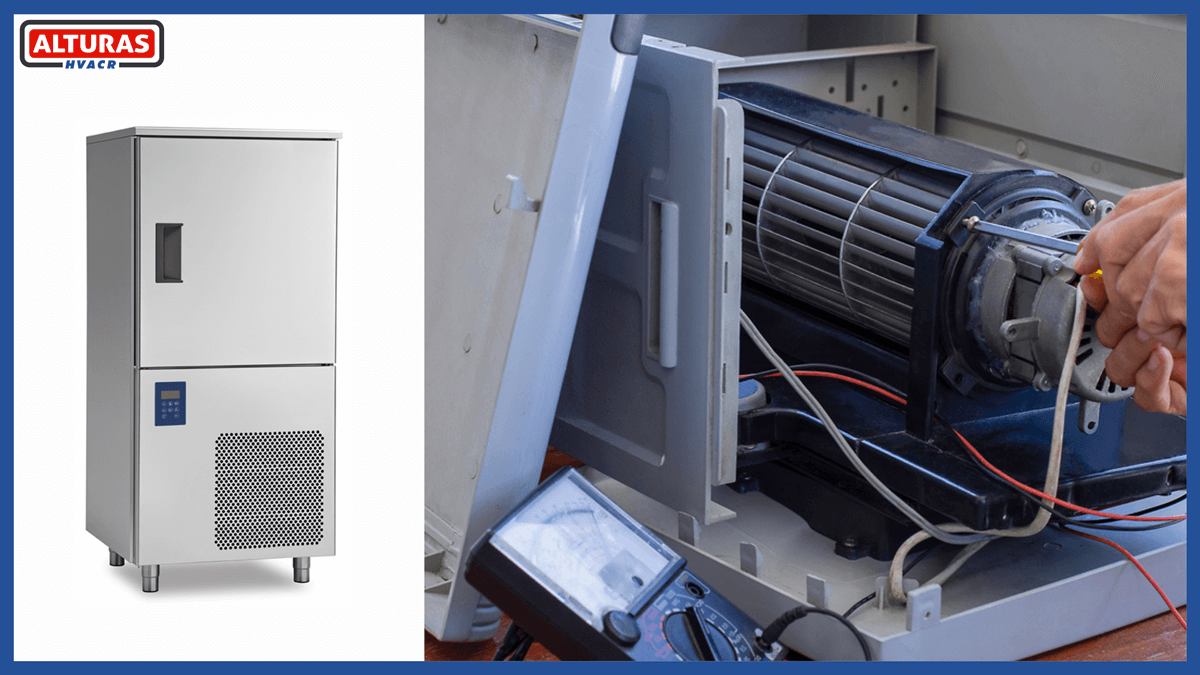 Commercial Blast Freezer Repair Los Angeles
If you are running a food industry and your business relies on commercial refrigeration equipment, you can not afford a malfunctioning blast freezer. Because when it fails, it will cost you money, disrupt your services and harm your overall business.
However, to avoid such a situation to occur, you can always count on Alturas contractors. We not only provide commercial blast freezer installation services in Los Angeles but also provide commercial blast freezers repair and maintenance services too.
CALL US FOR COMMERCIAL BLAST FREEZER REPAIR. (323) 443-3443 FREE ESTIMATE TODAY!
Blast Freezers Repair Near You
Our team of HVAC technicians is experienced in providing repair services for various types of refrigeration equipment. We keep customer satisfaction a priority and ensure the equipment's long-lasting function. 
The average life of a chiller lies between 5 and 10 years. But a professional HVAC specialist can perform maintenance steps to prolong the service life of the refrigeration units and keep systems in operating condition for a long time.
Alturas Contractors offers Blast Freezer Repair Services. Our services are well-recognized across California for many years in the business.
Book an Appointment Now!
24/7 Emergency Service
We offer 24/7 emergency Service for our new and existing customers. With strong focus on safety and quality of service, we are your trusted local hvac team for emergency hvac services.
Experienced Technicians
When its comes to HVAC installation, repair or maintenance, safety is our top priority. Alturas contractors team includes the best licensed technicians that are highly experienced in the relevant trade.
Competitive Pricing
We will match or beat any price that any other local service provider is offering, and with better service quality and satisfaction guarantee. Get in touch today and see us do it.
Common Blast Chiller or Freezer Issues
The HVAC appliance repair experts at Alturas service all types of commercial blast  chillers in Los Angeles. We are familiar with and equipped in repairing a wide range of common problems like:
Temperature fluctuations
Fluctuations and strange sounds while the unit operates, call HVAC repair service providers to  avoid potential issues with food contamination or food wastage.
Blast chiller Won't Turn On
This could be due to an interruption in power supply of issue in the wiring. refrigeration repair service provider will check
Power sockets
Fuses
Blast chiller controls
Excessive door opening 
If commercial blast freezers are excessively used and the door opening is very frequent, it can also cause cold air to escape and warm air from outside to seep into the refrigerator.  This results in a load on the freezer's compressor to maintain the optimum temperature. 
Blast freezer Won't Reach optimum Temperature
If your blast freezer does't reach the desired temperature, we check
If Repair or replace the thermostat is needed
Check for electrical issues
Ice buildup
If water begins to pool in your freezer, Ice buildups on the air vent or evaporator coils.  It Indicates that the your equipment has an underlying problem and needs professional maintenance. Call Alturas specialists right away to figure out the problem.
Worn-out gaskets or hinges
Door seals of the commercial Blast freezer are vital to preserving chilled air inside the unit.  Any tear in the gaskets, broken or misaligned door hinges, and latches can cause cold air to escape and warm air from outside to seep into the refrigerator. This results in a load on the freezer's compressor to maintain the optimum temperature. It can also cause condensation, which causes wet floors and mold grow
Call for Blast Freezers Repair
How do you Maintain a Blast Freezer?
We offer not only design and installation, but also refrigeration maintenance services so you may focus on your business rather than equipment upkeep. We have years of experience and we are dedicated to providing the greatest level of service to our clients.
There are several tips that should be followed to maximize the efficiency of the blast freezer. 
Blast chillers are key in terms of hazard prevention, due to the crucial role they play in food temperature reduction. When food is stored between 5-60 degrees Celsius, it is in a "danger zone"  as bacteria can grow rapidly. Therefore it is extremely important to keep your equipment at a consistent temperature.
Keep the condenser coil clean. It is necessary to create cool air to chill the food.
Remove frozen condensation from the coils regularly to improve the air flow. It will improve the efficiency of the unit. For this, set your chiller to de-frost mode and leave the door open.
Check the Blast chiller's seal for any leaks or tears. A broken or loose seal can compromise freezer's  efficiency. A loose seal can allow moisture and warm air to enter the freezer. This results in more time and energy to chill the food.
Clean the gaskets regularly to maintain a tight seal. Use warm, soapy water and a soft cloth to keep gaskets an seals clean.
While positioning the blast freezer, make sure that it is placed in a well-ventilated area having sufficient air flow. If the exhaust is blocked with other equipmenst or boxes, it will have to work harder to maintain the inner temperature negatively impactimng the equipment's performance.
Dust off the outher areas of the blast chiller regularly to clean any clogs or dirt. Inspect the drain lines for any blockage.
If your blast chiller is not performing well and the food is not cooling as quickly as before, it is advised to get a HVAC repair Service providers to have a look into the equipment. Our expert technicians will identify the issue and give repair services.
Commercial Blast Chiller Repair Service Near You
Blast Chillers need to be checked up regularly to ensure the proper functioning of the units. Make sure you don't miss your HVAC maintenance appointments as these are necessary preventive measures in keeping your cold storage chillers in a good shape. The repair services of the provided by Alturas specialists will provide you with many years of uninterrupted appliance usage and guarantee improved appliance performance. 
Alturas Contractors can provide a competent, experienced crew to repair and install commercial chillers to meet all of your business and manufacturing demands. If your industry still doesn't have a chiller, our staff at Alturas Contractors would be pleased to assist you in selecting a brand that will provide the most accurate temperature, humidity, and ventilation for your specific space.
Alturas Contractor's team of certified professionals will always make sure that your chillers are frequently examined, cleaned, and repaired so you always have a cool and clean environment to work in. In case you are not sure what type of commercial chiller you require for your space; we can answer all of your questions and help you decide.
Common FAQs about Commercial Chillers
What is the difference between a freezer and a blast freezer?
While regular freezers are typically kept at 0°C, a Blast Freezer operates at an air temperature of -30°C to -40°C. The significantly colder temperature in a blast freezer decreases the freezing process to a time of approximately 3 hours, compared to the 6-12 hours it may take for a normal freezer
What is Blast Chilling?
Blast chilling is a process of rapidly cooling food in order to preserve its freshness and prevent the growth of bacteria. The food is placed in a blast chiller, which rapidly circulates cold air around the food. This chilling process can take anywhere from a few minutes to a few hours, depending on the type and size of the food.
What is Blast Freezing?
Blast freezing is a process where food is quickly frozen using extremely cold air. This process can preserve the quality of food for a longer period of time than other methods.
How long do blast chillers last?
The lifespan of a blast chiller can vary depending on the make and model, but most units will last between 10 and 15 years. However, it is important to note that proper maintenance is key to prolonging the life of your blast chiller. If the unit is not properly cleaned and maintained, it could shorten the lifespan by several years.
Here's Why Alturas Contractors is the first choice for all HVAC services of Los Angeles' local businesses.
24/7 Emergency hvac Services
Over 10+ years of industry experience
Competitive / affordable Pricing
Specialize in Commercial HVAC
Licensed & Certified Local Contractors
Quality and Service Guarantee
*Fill in the form to get a quick service quote or to consult an HVAC technician for free estimates.
Commercial Blast Freezers Repair Los Angeles
Commercial Blast Freezers Repair services in Los Angeles. Contact Alturas Blast Freezers Repair HVAC contractor near you
Service Type: Commercial Refrigeration Services in Los Angeles
Price: starting from 500
Currency: USD
Find Alturas Contractors in your local area for all HVAC services near you. 
Alhambra
Bel Air
Beverly Hills
Brentwood
Burbank
Culver City
Los Angeles
Marina Del Rey
Monterey Park
Pacific Palisades
Pasadena
Santa Monica
Glendale
Hollywood
West Hollywood
Woodland Hills
Studio City
Tarzana
Echo Park
Encino
Sherman Oaks
Silver Lake
Venice
Westwood
Don't see Your Location? No Problem. Call our support to check for a possible solution. (323) 443-3443