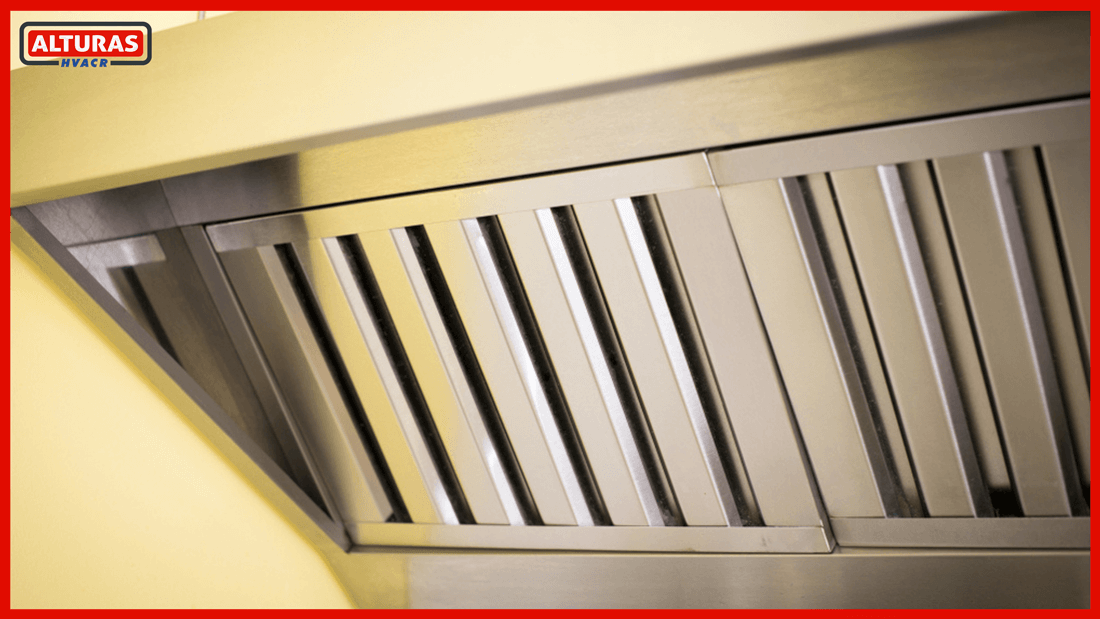 Commercial Kitchen Hood Repair Services in Los Angeles
The Commercial Kitchen Exhaust Hood system has a significant role in improving the kitchen's air quality by reducing cooking emission. It eliminates any odor, grease, smoke, pollutants and fumes before it gets mixed into the surroundings.
If it crashes, the ambience of the restaurant gets ruined, thus badly affecting your business. If you are looking for an affordable, on-demand commercial kitchen Exhaust Hood repair and maintenance service in Los Angeles, then look no further as Alturas commercial kitchen hood repair and maintenance service has got your back.
CALL US FOR COMMERCIAL HOOD REPAIR. (323) 443-3443 FREE ESTIMATE TODAY!
Our Commercial Exhaust Hood Repair Service includes 
Kitchen Exhaust hood filter, light and bulb repair and replacements
Kitchen Exhaust Hood motor repair for electrical issue and noise
Kitchen Exhaust Hood Pollutant control Unit Maintenance
Kitchen Exhaust Vent repair for any Blockage or faults

Commercial Exhaust Hood Repair

Pressure washing the interior of the kitchen exhaust system.

Commercial Kitchen Vent Hood Repair
Book an Appointment Now!
24/7 Emergency Service
We offer 24/7 emergency Service for our new and existing customers. With strong focus on safety and quality of service, we are your trusted local hvac team for emergency hvac services.
Experienced Technicians
When its comes to HVAC installation, repair or maintenance, safety is our top priority. Alturas contractors team includes the best licensed technicians that are highly experienced in the relevant trade.
Competitive Pricing
We will match or beat any price that any other local service provider is offering, and with better service quality and satisfaction guarantee. Get in touch today and see us do it.
Commercial Hood Repair Services in Los Angeles
Perhaps the most important appliance in your whole commercial kitchen is your range hood. This most important equipment is tasked with removing smoke, heat, toxins, and harmful odors from your kitchen and away from your customer and staff.
This equipment not only handles the air, but it also helps in the cooking process. When it goes out your restaurant is going to fill up with smoke in short order, soon your kitchen will be unlivable.
At Alturas Contractors our team is proud to stand by our work and we are extremely proud of our technical staff. Our technicians are fully trained and experienced in all areas and the original manufacturers have trained them. This means that we are capable of all types of commercial hood system repair services.
Restaurant Hood Cleaning Services
We at Alturas Contractors are HVAC Specialists and have been cleaning, repairing and maintaining commercial restaurant and kitchen exhaust systems since long. Equipped with all the necessary tools and equipment, our technicians repair and provide maintenance services for the malfunctioning commercial Hood at your doorstep. We are your absolute trust-worthy commercial Hood specialists, who put customer satisfaction at top priority. Our technicians diagnose the problem quickly and determine the best solution possible to save our customers from any further inconvenience.
Alturas Commercial Hood cleaning will help reduce the risks of fire, and makes the kitchen safer and more comfortable which can result in improved employee performance and business. It will reduce the risk of health hazardous air pollutants by constantly improving ventilation and filtration systems.
Here's Why Alturas Contractors is the first choice for all HVAC services of Los Angeles' local businesses.
24/7 Emergency hvac Services
Over 10+ years of industry experience
Competitive / affordable Pricing
Specialize in Commercial HVAC
Licensed & Certified Local Contractors
Quality and Service Guarantee
*Fill in the form to get a quick service quote or to consult an HVAC technician for free estimates.
Commercial Kitchen hood Repair | Exhaust hood Repair LA
Top Rated Commercial Kitchen hood repair company near you in LA. We repair restaurant exhaust hood systems as per NFPA guidelines. 24/7 ventilation services
Service Type: Commercial Exhaust System Repair and Installation
Price: starting from 500
Currency: USD
Find Alturas Contractors in your local area for all HVAC services near you. 
Alhambra
Bel Air
Beverly Hills
Brentwood
Burbank
Culver City
Los Angeles
Marina Del Rey
Monterey Park
Pacific Palisades
Pasadena
Santa Monica
Glendale
Hollywood
West Hollywood
Woodland Hills
Studio City
Tarzana
Echo Park
Encino
Sherman Oaks
Silver Lake
Venice
Westwood
Don't see Your Location? No Problem. Call our support to check for a possible solution. (323) 443-3443