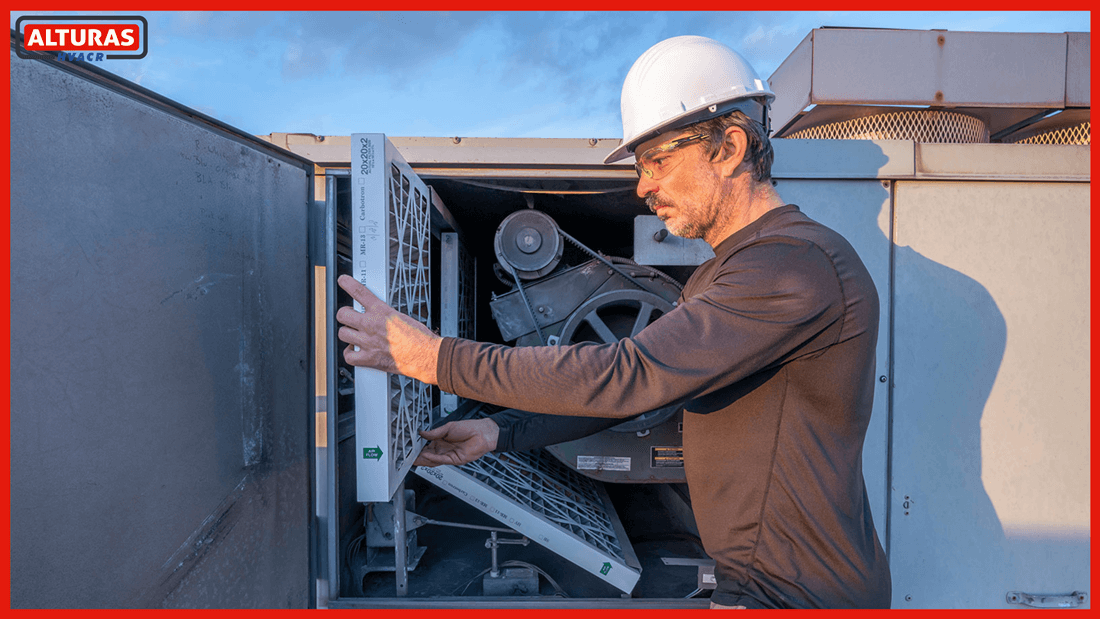 Commercial Swamp Cooler Repair Service in Los Angeles
Has your commercial or industrial evaporative swamp cooler started malfunctioning? Or it has stopped throwing cool air when the dry summer season is around? Don't let a crashed swamp cooler leave you or anyone around you sweating!
Pick up your phone and call Alturas HVAC Contractors for an emergency evaporative swamp cooler repair service in Los Angeles. Our professional and expert technicians will quickly diagnose and address your appliance's issues and rectify them so you can resume your business. Our commercial HVAC Contractors ensure efficient operation and increase your commercial cooler's life expectancy. 
CALL US FOR COMMERCIAL SWAMP COOLER REPAIR. (323) 443-3443 FREE ESTIMATE TODAY!
Swamp Cooler Repair Service
Swamp coolers require not only routine maintenance but also possible repairs. Not all companies are capable of dealing with these issues.
Our team at Alturas Contractors is experienced in swamp cooler maintenance and repair. If you're having issues with your swamp cooler, don't hesitate to reach out to us. We'll be more than happy to come take a look and get it fixed for you.
We can treat your cooler Fixes and leak troubles in no time feel free to contact us for any of your swamp cooler's repair services.
Book an Appointment Now!
24/7 Emergency Service
We offer 24/7 emergency Service for our new and existing customers. With strong focus on safety and quality of service, we are your trusted local hvac team for emergency hvac services.
Experienced Technicians
When its comes to HVAC installation, repair or maintenance, safety is our top priority. Alturas contractors team includes the best licensed technicians that are highly experienced in the relevant trade.
Competitive Pricing
We will match or beat any price that any other local service provider is offering, and with better service quality and satisfaction guarantee. Get in touch today and see us do it.
Why Swamp Coolers are Important?
Evaporative coolers are an essential component of Industrial and commercial areas. They cool air through the evaporation of water. They use water and fans to suck in dry, hot air. The dry air is blown across a moistened pad. As the water evaporates into the air, the air's temperature lowers. In dry climates, it provides the additional benefit of adding moisture to the air by acting as a built-in humidifier.
If something goes wrong with your cooling system during the summer or at any other time of the year, you should get aid from a reputable evaporative cooler repair service. Our certified and experienced technicians at Alturas Contractors are committed to providing the best, most affordable HVAC repair services to our customers.
We are all well-prepared at Alturas Contractors to execute thorough evaporative cooler inspections, problem diagnosis, troubleshooting, in order to fix your unit and keep it functioning as efficiently as possible. We'll work quickly and tirelessly until you have the cooling capacity you require.
Learn more on: Commercial AIr conditioning 
Common Swamp Cooler Problems
Evaporative coolers are much simpler in function and more cost-effective than air conditioners. But they can develop a range of problems over time that decrease their operating efficiency and performance. Following are some of the common problems of evaporative coolers that our technicians deal with day to day:
Mineral buildup 
Mineral buildup is a common issue in hard water areas like Los Angeles. All of the water evaporates and the "stuff" in the water i.e minerals, calcium, magnesium, and sodium is left behind. The more minerals the water contains, the faster mineral buildup will occur. Eventually, this buildup clogs the vents, and pads and blocks airflow. There are several ways to reduce mineral buildup prevention:
Zinc anode in the reservoir.
Treatment tablets.
A reservoir overflow.
Water filter.
Mold formation
Mold buildup over time is another common problem with swamp coolers. Warmth and moisture create a breeding aid for mold and fungus. It accumulates when a belt-driven fan pushes the air through a cellulose pad that remains wet. The blower then distributes mold into the home. 
Parts of the cooler that are exposed to the heat and sun are significantly warmer and assist mold formation. Swamp coolers require an intensive maintenance process to clean the accumulated mold. 
Humid atmosphere
A persistent humid area can affect the swamp cooler's performance. Swamp coolers are much less effective in humid regions.  The evaporative pads become saturated with water and debris builds up on them. It's also possible that the internal belt will break or slip off which will need to be replaced.
Faulty wiring
Another reason for swamp coolers to break down is faulty wiring, which may cause persistent tripping of the circuit breaker, or blowing of fuses. If not treated timely,  It's also possible that the motor might cease operating. If this happens, it will be necessary to replace the wiring or the motor
Inadequate cooling
If your swamp cooler is not blowing cold air, there could be several problems causing the issue. You might have the thermostat set too high. A digital thermostat allows you to set the temperature. Then the swamp cooler automatically runs until it reaches the desired temperature. You have to choose whether you want the fan setting on high or low. This problem can be fixed by lowering the thermostat. There can be other reasons for inadequate cooling such as:
Lack of adequate water saturation in the cooling pads.
A malfunctioning pump.
Clogs in the water recirculation system
The swamp cooler doesn't turn on
There can be several reasons a swamp cooler doesn't turn on.
Check for a blown fuse
Check for a tripped circuit breaker.
Examine the wires connected to the fuse and breaker.
Check for the thermostat. A faulty thermostat can affect the working of your motor. 
Check the belt that connects with the motor of the swamp cooler.
Musty odor coming from swamp cooler
When you smell a musty odor coming from your cooler, it's very possible that you have stagnant water on the cooler's evaporative pads. Check your pads occasionally and replace them whenever necessary. A stagnant water in the sump can also emit a smell. It needs to be drained and cleaned. 
Insufficient airflow
Some of the reasons for insufficient airflow can be
A loose or damaged belt on the ventilator motor.
An issue with the fan belt or pulleys.
Installation of the unit in a location where there is inadequate clearance for ventilation.
Call for Best Swamp Cooler Repair Service
How to Keep Your Swamp Cooler Operating Efficiently
Here are a few quick and easy techniques to help you maintain your swamp cooler functioning for a long period.
Preventive maintenance should be performed every six months.
Check for signs of wear and tear on the motor belt and replace it as needed.
Make sure the water pan has enough water (about 4 inches).
Examine the water pump to ensure it is in good operating order.
To guarantee that the blower wheel runs smoothly, lubricate the bearings.
Swamp Cooler Maintenance Service
Whether you need an emergency repair, seasonal maintenance, or a bit of advice, our team of experienced and professional technicians at Alturas is just a call away. 
Cleaning and maintaining roof-mounted evaporative coolers is difficult and can not be carried out without expert help. You may want to call a professional and experienced HVAC repair service provider. Call Alturas swamp cooler maintenance services in Los Angeles. Our expert HVAC technicians keep customer satisfaction a priority. We will evaluate your evaporative swamp cooler, diagnose the issue and resolve it in the cheapest way possible. Our HVAC technicians will make sure that swamp cooler maintenance service results in increased life expectancy of the equipment. We also offer a wide range of other HVAC services for residential, commercial, and industrial customers in Los Angeles and the surrounding areas.
If you're having trouble with your swamp cooler or any other heating or cooling system, don't hesitate to call us.
Common FAQs about Evaporative Cooler Repair
Do swamp coolers work in Los Angeles
In a dry environment such as ours here in the Los Angeles area,evaporative cooling is actually a great choice for energy-efficient temperature control. Because the air around us is so dry to begin with, it has the capacity to absorb a ton of additional water, and that makes them remarkably effective.
 How do I know if my swamp cooler motor is bad?
If your swamp cooler motor is bad, you may notice that the unit is not cooling as effectively as it used to. The motor may also make strange noises, or it may not turn on at all. If you suspect that your swamp cooler motor is bad, you should take it to a qualified technician for diagnosis and repair.
At what temperature do swamp coolers stop working?
Swamp coolers work best in hot, dry climates. They stop working when the temperature drops below 60 degrees Fahrenheit.
How long do evaporative coolers last?
Evaporative coolers typically last for many years with proper maintenance. The key to prolonging the life of an evaporative cooler is to keep the unit clean and free of mineral build-up. An annual deep cleaning will help ensure that your evaporative cooler lasts for as long as possible.
Do you need to have a window open with a cooler?
No, you don't need to have a window open with a cooler. The cooler will work just fine without the window open.
Who fixes swamp coolers?
If your swamp cooler is not working properly, it is best to call a professional HVAC to fix it. We at Alturas Contractors can help with evaporative cooler maintenance and repair. Contact us today and we'll reach out to you and assess your facilities to make sure you get the swamp cooler fixed in no time
Here's Why Alturas Contractors is the first choice for all HVAC services of Los Angeles' local businesses.
24/7 Emergency hvac Services
Over 10+ years of industry experience
Competitive / affordable Pricing
Specialize in Commercial HVAC
Licensed & Certified Local Contractors
Quality and Service Guarantee
*Fill in the form to get a quick service quote or to consult an HVAC technician for free estimates.
Commercial Swamp Cooler Repair Services Los Angeles
Top rated Commercial Swamp Cooler Repair services in Los Angeles. Contact Alturas Swamp Cooler Repair experts for all HVAC Services near you
Service Type: Air Conditioning Repair and Installation
Price: starting from 300
Currency: USD
Providing Services in Local Areas around LA
Find Alturas Contractors in your local area for all HVAC services near you.
Alhambra

Bel Air

Beverly Hills

Brentwood

Burbank

Culver City
Los Angeles

Marina Del Rey

Monterey Park

Pacific Palisades

Pasadena

Santa Monica
Glendale

Hollywood

West Hollywood

Woodland Hills

Studio City

Tarzana
Echo Park

Encino

Sherman Oaks

Silver Lake

Venice

Westwood
Don't see Your Location? No Problem. Call our support to check for a possible solution.
(323) 443-3443