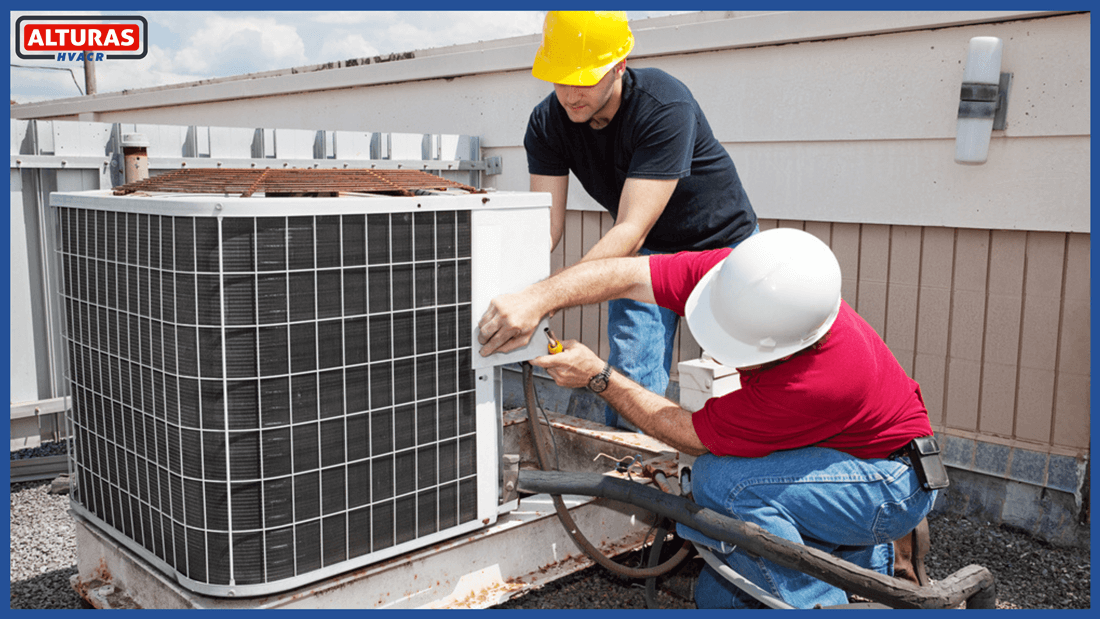 Commercial Air Conditioning Installation Service Los Angeles
Customers have come to anticipate a pleasant, cool environment from stores and restaurants. A temperate temperature also encourages customers to spend more time and, as a result, spend more money. When employees aren't sweating in the summer or freezing in the winter, they are significantly more productive in the office.
At Alturas Contractors, we are committed to ensuring that your commercial space is completely equipped with the most up-to-date and energy-efficient air conditioning system available. 
CALL US FOR COMMERCIAL AIR CONDITIONING INSTALLATION. (323) 443-3443 FREE ESTIMATE TODAY!
Commercial Air Conditioning Installation Service Near You
Let Alturas Contractors put the new AC system for your home or business. Our staff of professionals can handle all the facets of air conditioning installation in an easy and convenient manner, so you can enjoy the cool air as soon as possible. Our company should be the clear choice when you are looking to hire for cooling services. Reach out to us today for information, details on AC installation costs, and more! 
Our professionals can help you with any part of the process of getting set up with a new air conditioning system. If you have any doubts on deciding which model to pick from a lot of options for AC units, we can help you in choosing by offering advice on trusted brands and explaining the differences between them. Give us a call, we are here for you with 24/7 emergency services.
Book an Appointment Now!
24/7 Emergency Service
We offer 24/7 emergency Service for our new and existing customers. With strong focus on safety and quality of service, we are your trusted local hvac team for emergency hvac services.
Experienced Technicians
When its comes to HVAC installation, repair or maintenance, safety is our top priority. Alturas contractors team includes the best licensed technicians that are highly experienced in the relevant trade.
Competitive Pricing
We will match or beat any price that any other local service provider is offering, and with better service quality and satisfaction guarantee. Get in touch today and see us do it.
Why is Commercial Air Conditioning Installation Important?
An air conditioner is vital equipment to eliminate heat, humidity, irritants, molds, and unpleasant odor from an industrial or commercial area and provide cold air inside. Air conditioners should be installed in small spaces like hotel rooms, homes, and buildings and in large spaces like hospitals, shopping malls, educational institutions, etc. It enhances the air quality and keeps temperatures at optimum levels for staff, visitors, and workers.
An Improper Air conditioner service and installation can reduce its efficiency by up to 30%,  cost you more on your electricity bills, and shorten the equipment's life expectancy. If you are seeking an accomplished and skillful HVAC company that specializes in all kinds of HVAC system installation, then contact Alturas commercial HVAC Contractors. We are experts in various types of commercial air conditioning installation in the Los Angeles, CA area. Our team of HVAC contractors specialists is available 24/7 and is a call away for the best AC installation service at your place.
Learn more about: Alturas Commercial Air conditioning repair services in Los Angeles
Types of Commercial Air Conditioning Installation
In order to meet the diverse needs of today's global climate, air conditioning systems comes in a variety of heating and cooling capacities. Alturas HVAC technicians are trained and experienced in various types of air conditioning systems installation:
Ductless, Mini-Split Air Conditioner
A ductless mini-split system includes one outdoor unit and one indoor unit that are connected by refrigerant and electrical wiring. The indoor unit is usually wall-mounted and delivers heated or cooled air directly into the indoor space. There is no ductwork needed in Mini-split Conditioner. 
Multi-Split Air Conditioning system:
Multi-split systems working is identical to single-split systems. The difference, however, is that multiple indoor units can connect to a single, larger outdoor unit.  one outdoor compressor can be connected to four to five indoor air units via refrigerant lines, condensate drain lines, and power cables.
Central Air Conditioning
Central air conditioning or central A/C is a system that moves cooled air throughout the space. The atmosphere is cooled at a central location and is supplied to the air ducts that spread conditioned air throughout the area. It also removes the moisture present in the area making the area fresh and comfortable. 
VRF or VRV air conditioner
Variable Refrigerant Volume (VRV) and Variable Refrigerant Flow (VRF)  air conditioning systems both refer to the same type of AC system. VRF systems use heat pumps or heat recovery systems to provide heating and cooling without the use of air ducts. With a VRF system, the building will have multiple indoor units utilized by a single outdoor condensing unit.
A packaged Terminal Air Conditioner (PTAC)
A packaged Terminal Air Conditioner (PTAC) is a self-contained ductless unit that provides through-the-wall heating and cooling system. They do not use outside air, instead, they utilize the air already present inside the room. 
Vertical Terminal Air Conditioners (VTAC)
VTAC stands for vertical terminal air conditioner. VTAC is a compact wall-mounted, vertical heating and cooling air conditioning unit that can provide heating and cooling functions for single or multiple rooms. A VTAC can control the temperature of a single room or multiple rooms in a building.
Window Mount AC Units
A window mount air conditioner also referred to as a room air conditioner is the simplest type of AC unit. They are designed to be fixed inside your window frame,  It's a single unit with all of the components contained inside one box or casing. The body of the appliance is fixed partially inside and partially outside of the window pane.
Call for HVAC Installation Los Angeles
Industrial and Commercial Air Conditioning Installation
Air conditioners are an essential component of Industrial and commercial areas as they control the temperature of the area to prevent extremes of heat and humidity. They are an integral part of an industrial plant as they ensure that production machines work efficiently and that the employees and staff are comfortable while working. Spaces like warehouses, shopping malls, large offices, department stores, and even medium-sized businesses benefit from industrial air conditioners.
Commercial and industrial HVAC systems are much larger, more demanding, heavier, and more intense as compared to residential HVAC because they are employed to cool much larger spaces. This equipment is more complex to be installed and set up. Therefore, an industrial HVAC installation requires a high level of expertise than a residential air conditioning installation.
An air conditioning installation is more than just a purchase, it's an investment for your future. Therefore, you'll want to choose the perfect commercial AC system and the best AC installation at your place. Alturas Heating, Ventilation, and Air Conditioning (HVAC) professionals specialize in the installation of a variety of complex air conditioning systems that would be energy efficient when it comes to heating and cooling solutions. Our professionals are trained and have exemplified proficiency in installing a commercial air conditioning system for you.
Top Rated Commercial HVAC Installation Company in Los Angeles
We have a lot of 5-star ratings from our valued customers. For many years, we've been delivering excellent HVAC installation services.
We will provide you with a complete estimate for your new HVAC system. Once you schedule your installation, our skilled technicians will stay in touch with you through the entire process. With our coveted customer services and expert professionals, you're bound to have the best HVAC system in the city.
Here's Why Alturas Contractors is the first choice for all HVAC services of Los Angeles' local businesses.
24/7 Emergency hvac Services
Over 10+ years of industry experience
Competitive / affordable Pricing
Specialize in Commercial HVAC
Licensed & Certified Local Contractors
Quality and Service Guarantee
*Fill in the form to get a quick service quote or to consult an HVAC technician for free estimates.
Commercial Air Conditioning Installation Services Los Angeles
Top rated Commercial Air Conditioning Installation services in Los Angeles. Contact Alturas Air Conditioning Installation experts for all HVAC Services near you
Service Type: Air Conditioning Repair and Installation
Price: starting from 300
Currency: USD
Providing Services in Local Areas around LA
Find Alturas Contractors in your local area for all HVAC services near you.
Alhambra

Bel Air

Beverly Hills

Brentwood

Burbank

Culver City
Los Angeles

Marina Del Rey

Monterey Park

Pacific Palisades

Pasadena

Santa Monica
Glendale

Hollywood

West Hollywood

Woodland Hills

Studio City

Tarzana
Echo Park

Encino

Sherman Oaks

Silver Lake

Venice

Westwood
Don't see Your Location? No Problem. Call our support to check for a possible solution.
(323) 443-3443